technology
Owner of the Verge and Recode Sites Plans to Expand Beyond U.S.
By
Vox Media CEO: 'We expect to invest more and more globally'

Company has deal with Tencent for Verge stories in China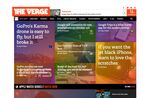 Vox Media Inc., the company that operates The Verge and Recode technology news sites, is preparing to expand internationally, following other outlets popular with millennials in bringing U.S. brands to foreign markets.
Vox has tasked Jonathan Hunt, who joined two years ago from Vice Media Inc., to sound out opportunities abroad, Chief Executive Officer Jim Bankoff said in an interview in Germany. Currently, more than two-thirds of Vox's website traffic originates in the U.S.
"His first goal is to develop a strategy, talk to players in the market, understand what the business and creative opportunities are and develop a plan from there," Bankoff said on the sidelines of a conference in Cologne last week. "We expect to over time invest more and more globally."
While Vox partnered with Tencent Holdings Ltd. last year to bring The Verge stories to China and has gained readers in Europe and Australia, it hasn't yet translated its other sites or bought media properties abroad, mainly because the company is still growing rapidly in the U.S. and still sees opportunities there, Bankoff said.
"We've been approached many many times," on partnerships, Bankoff said. "We've said 'no' to far more than we've said 'yes' to."
Vox, which employs about 700, owns sites including Vox.com, SB Nation, Eater, Polygon, Racked and Curbed. It will try to match its brands with the right local audiences, so it will have appeal and generate ad sales, Bankoff said. That requires "both cultural understanding and the ability to build sales, agency and marketer relationships on the ground."
Vice, another U.S. digital-media outlet, said in June that it reached deals to expand into more than 50 countries. Vice has grown from online news and video to focusing on television including with Time Warner Inc.'s HBO.
The domestic U.S. opportunities for Vox may lie in a deeper partnership with Comcast Corp.'s NBCUniversal, which invested $200 million in Vox last year and has since started jointly selling online and TV advertising with the media company.
Vox can help NBCUniversal and its strong television franchises be effective digital properties, "both from a content perspective, but also from an integrated advertising perspective," Bankoff, a former AOL executive, said without elaborating.
The company's websites collectively reached 62.5 million unique U.S. visitors in February, up 19 percent from a year earlier, according to ComScore Inc. data.
— With assistance by Gerry Smith
Before it's here, it's on the Bloomberg Terminal.
LEARN MORE