North Korea Claims Success in Test of Long-Range Rocket Engine
By
South says more analysis needed to ascertain success of test

Leader Kim Jong Un oversaw tests at the Sohae Space Center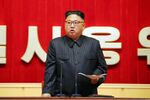 North Korea said Tuesday it ground-tested a new type of high-powered engine for long-range rockets, in another provocation as the U.S. and its allies vow to strengthen sanctions.
The isolated nation's state media said that leader Kim Jong Un oversaw the test at the Sohae Space Center, and praised officials and scientists for having "successfully and devotedly carried out the task given by the party in a short span of time." South Korea's government said more analysis was needed to ascertain whether it was successful.
The engine is likely to be used for long-range missiles, South Korean Defense Ministry spokesman Moon Sang-gyun told reporters in Seoul on Tuesday. The ministry will "closely monitor" movements by the North's military before the ruling Workers' Party marks its anniversary on Oct. 10, Moon said.
The engine test claim comes weeks after North Korea conducted its biggest ever nuclear test, and as South Korea says the regime is ready to conduct further atomic detonations. The U.S. and allies such as Japan and South Korea have called for additional sanctions against Pyongyang as it increases the frequency of nuclear tests and ballistic missile firings.
For timeline of North Korea missile launches and nuclear tests, click here
North Korea last launched a long-range rocket in February, putting the "Kwangmyongsong" (shining star) satellite into space. North Korea is developing a missile called Taepodong-2 with a range of 10,000 kilometers (about 6,200 miles), according to South Korea's Defense Ministry. That would leave the West Coast of the U.S. within the missile's range.
Before it's here, it's on the Bloomberg Terminal.
LEARN MORE