Merkel Said to Meet Bavarian Premier to End Spat Over Refugees
By
Seehofer will discuss path forward with Merkel on Thursday

German leader's possible bid for fourth term hangs in balance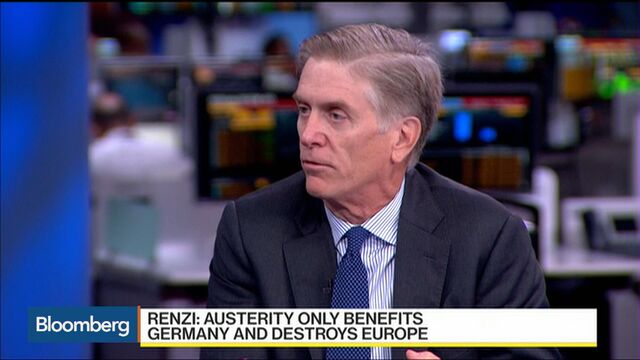 German Chancellor Angela Merkel and the Bavarian premier are working to end a spat over migration policies that has damaged their governing coalition as they try to forge a path forward following two state election defeats, a person familiar with the matter said.
Merkel will meet Thursday with Horst Seehofer, who leads the Bavarian sister party to the chancellor's Christian Democratic Union, to hammer out their differences on refugees as they begin plotting their strategy for next year's federal election, said the person, who asked not to be identified because the gathering hasn't been officially announced.

Merkel told her parliamentary caucus on Tuesday that the split over migration policy will be resolved within weeks, according to a party official. At the closed-door meeting with lawmakers of her ruling bloc on Tuesday, Merkel said she's confident of finding a compromise to end months of infighting between the CDU and Christian Social Union, the party official told reporters on condition he not be identified. 
A year before the federal election, the CSU has so far withheld support for Merkel as candidate because she's rejected Bavaria's demand for an annual migration cap of 200,000. After Merkel said Monday she shares the blame for the CDU's defeats in two regional votes this month, CSU leaders have eased off.
Merkel's acknowledgment "was a first, very important step" and clears the way for "intensive and constructive talks" between the sister parties, CSU lawmaker Stephan Mayer told reporters. "These talks will happen in the next few weeks. I am very confident that we will soon reach an agreement."
Merkel, 62, is seeking to claw back ground in the polls as she weighs whether to seek a fourth term while sticking with her defense of open borders. Even as the number of new asylum seekers has held steady in 2016 at a fraction of last year's record influx, Merkel needs a deal with the CSU before the two parties back her as their candidate again.
After Merkel's moment of contrition on Monday, "there is a willingness again in both parties to tackle problems together," Michael Grosse-Broemer, parliamentary whip of the CDU-CSU caucus, told reporters in Berlin.
— With assistance by Tony Czuczka
Before it's here, it's on the Bloomberg Terminal.
LEARN MORE