business
May Reassures UN That U.K. Didn't Vote to Walk Away From Allies
By
This was the debut at the UN of Cameron's successor as premier

Britain told it cannot have its cake and eat it on Brexit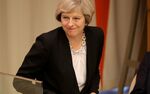 U.K. Prime Minister Theresa May saved Brexit for the very end of her debut at the United Nations General Assembly.
In a speech that defended the right of nations to control their borders and denounced unfettered migration, she said that the U.K. vote to leave the European Union was not a decision to "turn inwards or walk away from any of our partners."
She said it spelled out a desire by Britons to take back control of their country and highlighted that politicians were out of touch with their electorate.
Her comments come as the EU's eastern members are forcefully arguing that the U.K. will not be able to get a deal that includes both immigration curbs and free-market access. The hardening position of the bloc's 11 ex-communist members has narrowed London's room for maneuver.
May has insisted that the other 27 members will sign a deal with the U.K. because it's in everyone's interest to do so.
Sign up to receive the Brexit Bulletin, a daily briefing on the biggest news related to Britain's departure from the EU.
Before it's here, it's on the Bloomberg Terminal.
LEARN MORE