The Man Who Started EpiPen's Price Rise Won't Face Congress
By
Robert Coury was first to hike price of allergy medication

House committee wants to know why a two-pack costs $600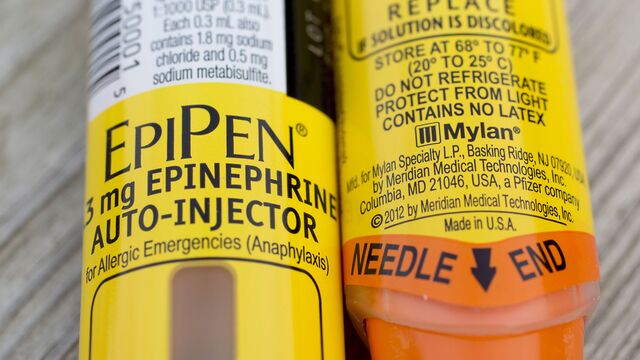 Heather Bresch will face the proverbial lash from Congress on Wednesday over the escalating cost of Mylan NV's EpiPen. Her boss won't.
Robert J. Coury acquired the rights to sell the emergency allergy antidote in 2007 when he was Mylan's chief executive officer. At the time, the EpiPen cost about $50 a shot. When Coury stepped down as CEO and became the company's executive chairman in 2011, the price was about $90, according to SSR Health. Now, it's sold in a two-pack for $600 and, thanks to federal legislation, it's required in many schools.

Though Coury's role has evolved -- he hasn't been CEO for five years and in June had his title changed to chairman from executive chairman -- he still oversees company strategy, said Nina Devlin, a Mylan spokeswoman.
"He's probably more involved than most CEOs, given his history,'' said Ronny Gal, an analyst at Sanford C. Bernstein & Co. "He's always been a kind of hands-on kind of guy."
Public Face
It's probably best for Mylan that its current CEO is the public face of the company on Capitol Hill rather than Coury. Bresch, 47, as the daughter of Democratic Senator Joe Manchin of West Virginia, knows the corridors of power. Coury, on the other hand, loves to agitate. At a 2013 health-care conference hosted by Goldman Sachs, he expressed his weariness with hypothetical questions by invoking an older woman's hypothetical private parts. "I get a little tired of the 'if,''' he said. "If your aunt had balls, she'd be your uncle, right?"
Through Devlin, Coury declined to be interviewed. He has yet to comment publicly on the controversy surrounding EpiPen, which administers $1 of epinephrine and accounts for 40 percent of Mylan's profit. 
Tax Rate
Coury, 55, piloted Mylan's growth from a regional drug manufacturer to today's global generics behemoth with $9.4 billion in sales last year. As Mylan CEO, he oversaw nine acquisitions and another 11 after becoming executive chairman. Coury orchestrated the 2015 acquisition of Abbott Laboratories' generics business, which allowed Mylan to move its corporate address to the Netherlands to reduce its tax rate. When President Barack Obama questioned so-called inversions by U.S. companies, Coury fired back with a defense in a USA Today op-ed.
"All of our major competitors were either founded outside of the U.S. or have recently inverted, and benefit from more attractive tax structures," Coury wrote. "This significant competitive disadvantage could put our corporation, and all of our high-quality U.S. jobs, at risk."
Coury is known for clashing with investors and competing executives, most notably during merger-and-acquisition battles with Teva Pharmaceutical Industries Ltd. and Perrigo Co.
Charm Offensive
"He'll drop an f-bomb to a female audience in a heartbeat,'' former Mylan executive Richard Moldin said in an interview. "He'll rant and rave." 
Moldin said Coury was able to rally shareholders but conceded the CEO's plain-spokenness grew too frustrating, and said he quit in 2001 after the two clashed. "Robert is a very self-focused individual,'' Moldin said. "He's probably the main reason I left the company."
To appease critics of the EpiPen, Mylan has announced plans for a generic alternative and promised to increase rebates. The company also sent Bresch on a charm offensive. She's familiar to many lawmakers, and it's unclear how intense a grilling she'll receive when she testifies to the House Oversight and Government Reform Committee.
"There is justified outrage from families and schools across the country struggling to afford the high cost of EpiPens," committee Chairman Jason Chaffetz, Republican of Utah, and ranking member Elijah Cummings, Democrat of Maryland, said in a joint statement released last week.
Pittsburgh Home
Coury grew up in a crowded household in the blue-collar Brookline neighborhood of Pittsburgh, earning an engineering degree from the University of Pittsburgh in 1984. He sold insurance, did estate planning and opened his own consulting firm. In the mid-90s, connections on Mylan's board helped earn him a contract to improve company benefits. He became a financial adviser to the board and senior management. In 2002, he was named CEO.
Three years later came his first public spat when billionaire investor Carl Icahn argued that Coury's $4 billion offer for King Pharmaceuticals was too high. Coury was forced to abandon the takeover and instead found himself fending off Icahn's unsolicited $5.4 billion bid for Mylan. King was later acquired by Pfizer Inc., which manufactures the EpiPen. Icahn didn't respond to requests for comment.
Plane Travel
Mylan's 280,000 square-foot (26,000 square-meter) operations hub in Canonsburg, Pennsylvania, is named the Robert J. Coury Global Center. Last year, Coury received $62.4 million in take-home pay, according to data compiled by Bloomberg. And he hasn't been shy about availing himself of the perks that come with the success of a company whose stock has nearly tripled since he took over in 2002. His contract allows him to use the company's jets for personal travel, and he logged $2 million in aviation expenses from 2010 to 2013. Some flights were used to shuttle to and from performances of his son, Tino, 28, whose 2010 electro-pop single, "Diary," reached No. 11 on Billboard's Dance Club chart, the Wall Street Journal reported.
"Mylan's contracts with Mr. Coury for more than a decade have authorized his use of the corporate aircraft for both business and personal reasons," said Devlin, the spokeswoman.
EpiPen Marketing
In 2007, Mylan acquired the exclusive right to distribute the EpiPen from Merck KGaA. After Bresch became CEO, it ramped up marketing, expanded its sales force by 40 percent and lobbied Congress so that school districts across the country were required to stock EpiPens. It also partnered with the Clinton Global Initiative by promising to cut prices of its HIV/AIDS treatment in developing countries. Coury stood on stage with former President Bill Clinton during the announcement. Hillary Clinton has been critical of EpiPen pricing.
After acquiring EpiPen, when Coury was CEO Mylan raise the product's price by 10 percent on three occasions over a 15-month period. By 2011, the EpiPen was being sold only as a two-pack and its market share soared to 98 percent. Coury brushed off pricing concerns at a conference in 2012, telling analysts the high cost enabled the company to expand access.
This year, members of Congress have been so outraged by the price increases that they're hauling Bresch into a hearing. David Maris, an analyst for Wells Fargo Securities, said he was surprised the congressional panel hasn't also asked Coury to testify. Yet even Coury's critics contend that the drugmaker isn't doing anything extraordinary.
"Mylan is just trying to take advantage of a situation that's purely a marketplace play," said Moldin, the former company executive. "We work in a capitalistic society. If there's an opportunity, great, but I don't think they've done anything with the EpiPen that warrants the amount of attention they're getting."
— With assistance by Cynthia Koons
Before it's here, it's on the Bloomberg Terminal.
LEARN MORE