Lula Faces Trial as Brazil Judge Accepts Corruption Charges
Mario Sergio Lima, Anna Edgerton and Bruce Douglas
Ex-president says there's no proof and his conscience is clear

Legal woes damage chances of Lula running for office in 2018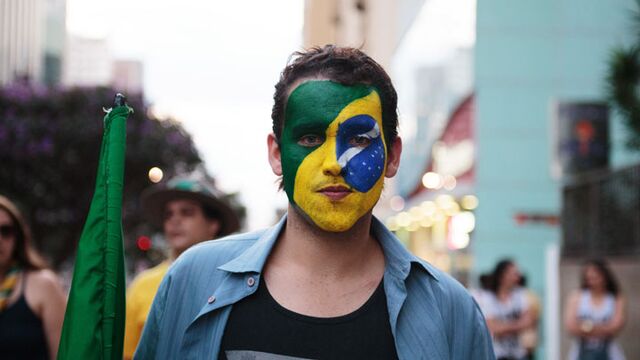 Brazil's former President Luiz Inacio Lula da Silva faces criminal charges after a federal judge accepted prosecutors' arguments that there is sufficient evidence to bring him to trial.
Judge Sergio Moro wrote in a statement Tuesday afternoon that prosecutors had provided enough proof to try Lula over allegations that he participated in a scheme of kickbacks. The former president has repeatedly denied any wrongdoing.
Speaking at a small reception in his honor later on Tuesday, Lula said there's no evidence against him, as the term StandWithLula started trending on social media.
"I'm a man with a clear conscience," he said via satellite at the New York reception sponsored by labor unions. "If anyone offers proof against me -- any proof at all -- I want to be judged just like any other Brazilian citizen."
Doubts Remain
Moro wrote that there is "just cause" to accept the charges against Lula, adding that doubts remain about the scale of the former president's involvement. The judge also accepted charges against Lula's wife, Marisa Leticia, and six others, giving them 10 days to present a preliminary defense. In July, Lula was indicted in a separate case on charges of attempting to obstruct justice.
Tuesday's decision marks the most serious development so far in the former president's legal woes, and could stop him from running for election in 2018. Once the most popular leader in Brazil's history, Lula remains the Workers' Party's preferred candidate for the presidency. But under Brazil's so-called clean slate law, any politician convicted of a criminal offense is barred from running for office for eight years.
As the lead judge in the Carwash investigation, Moro has handed down hefty jail sentences to dozens of Brazil's top business executives. As yet no serving politician has been imprisoned over the graft scheme that prosecutors say cost state-owned oil company Petrobras around 42 billion reais ($13 billion).
In a news conference last week, prosecutors accused the former trade unionist of acting as "commander-in-chief" of the corruption scheme uncovered at Petrobras. The actual criminal charges leveled by investigators are much narrower in scope and relate to benefits the former president allegedly received from OAS SA, a construction company, in return for political favors.
Lula's lawyers Cristiano Zanin Martins and Roberto Teixeira said in a statement Tuesday that prosecutors have failed to provide proof of their allegations, adding that Judge Moro has demonstrated bias against the former president.
— With assistance by Vinicius Andrade
Before it's here, it's on the Bloomberg Terminal.
LEARN MORE