Japanese Banks Latest Big Short for Top Hedge Fund on BOJ
by , , and
Horseman says Shizuoka Bank, San-In Godo good short targets

Fund has returned 14% this year versus Topix's 15% decline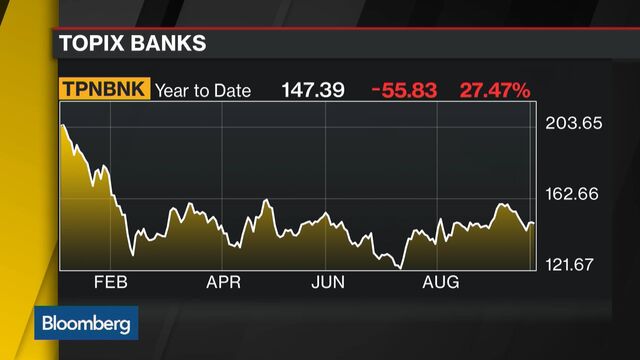 Japanese banks are the latest big short for a top-ranked hedge fund, thanks to the central bank's negative interest rate policy.
Horseman Capital Management's hedge fund run by Shannon McConaghy is the best of 56 Japan-focused long-short equity strategies tracked by Eurekahedge Pte, after the manager started shorting regional banks at the end of last year. McConaghy's fund returned 14 percent through August, compared with a 15 percent decline in the benchmark Topix index through Tuesday. 
Banks surged today after the Bank of Japan decided to target the bond yield curve and refrain from deepening negative interest rates. The decision provides relief for banks, whose shares remain among the worst performers in Japan this year.
Japan "is the best short in the world at the moment," McConaghy, 35, said in an interview. "I don't have a price target, but I suspect that over the next few years, a number of banks will go to zero -- as in bankrupt."
Stand Out
Horseman, which managed $2.5 billion globally as of Aug. 31, stands out in Japan, where hedge funds as a group have lost money this year as they've struggled to anticipate global market shocks and central bank actions.
Among the most "appealing" opportunities to bet against are regional lenders such as Shizuoka Bank Ltd., Yamaguchi Financial Group Inc. and San-In Godo Bank Ltd., he said.
"I am shorting banks because there are structural problems with regional population declines," said McConaghy. "The Bank of Japan's policies are accentuating the problems by reducing interest-rate income the banks could have earned." 
Shares of Shizuoka Bank climbed 6 percent as of 2:18 p.m. Tokyo time, trimming this year's decline to 26 percent. San-In Godo rose 7.1 percent, cutting this year's loss to 24 percent and Yamaguchi added 6.1 percent, paring this year's slide to 22 percent.
The Topix index of bank stocks has declined 24 percent this year and the banking sector is now the most-shorted after electronics, according to Japan Exchange Group, which operates the nation's bourse. 
Negative Rates
Japanese banks have struggled to make money from lending since the BOJ announced plans to start charging fees on some of their reserves in January, a policy that has faced criticism from bank executives and lawmakers as evidence mounts that negative rates are doing little to spur growth and prices.
"You can debate whether or not the negative interest rate has an positive or negative effect on the economy, but what is clear is that they have a negative effect on the banking sector," said Chris Dyer, director of global equity, who helps manage $334 billion at Eaton Vance Management (International) Ltd. "It's a challenging environment for them to make money given the pressures on the net interest margins."

"Shizuoka Bank's earnings remain strong as loan interest turned positive," said Akira Atsumi, a spokesman for the lender. "We have also earned a certain level of recognition from overseas investors."
Spokesmen for Yamaguchi and San-In Godo declined to comment.
Yamaguchi, Shinsei Bank Ltd. and Nagano Bank Ltd. are the most-shorted bank stocks on Japan's exchange, with about 2.5 percent of their outstanding shares being shorted, according to data compiled by Bloomberg. Shinsei Bank declined to comment and Nagano Bank couldn't immediately be reached for comment.
McConaghy is also shorting property developers and real-estate investment trusts, betting a construction boom in Tokyo unleashed by ultra-low interest rates will lead to an oversupply of office space in coming years.
Before it's here, it's on the Bloomberg Terminal.
LEARN MORE