Stocks Rise With Bonds as Fed Damps Rate Outlook; Dollar Weakens
by , , and
'Dots' show officials scaled back 2017 rate hike expectations

Nikkei 225 futures advance; Kiwi slips with RBNZ on hold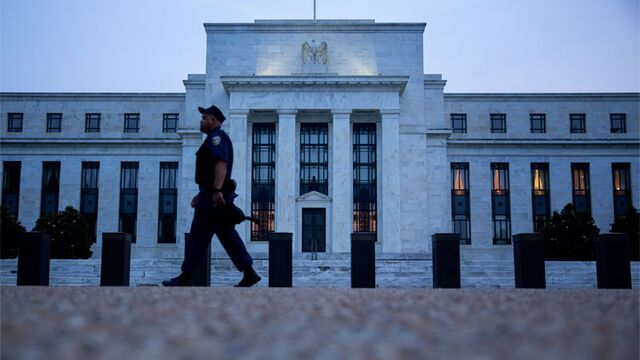 Stocks advanced with bonds, while the dollar retreated as the Federal Reserve lowered its outlook for long-term interest rates. Oil jumped.
Global equities climbed the most since June and emerging-market assets surged as the Fed scaled back expectations for interest-rate hikes in 2017 and beyond. Thirty-year Treasuries rallied to a two-week high as the dollar weakened against all but one of its major peers. The S&P 500 Index extended gains after Chair Janet Yellen said asset valuations are "not out of line with historical norms." Earlier, market optimism was driven by the Bank of Japan's tweaks to its stimulus policy. Crude jumped after U.S. inventories plunged.

Traders have been losing faith on the Fed's ability to diverge from the looser monetary policy stance of central banks in Europe and Japan amid evidence of inconsistent strength in the world's largest economy. A divided U.S. central bank left its key rate unchanged on Wednesday to await more evidence of progress toward its goals, with officials still projecting a rate increase by year-end. The Fed see two hikes next year, down from three increases projected in June. Odds on a rate boost at the last meeting of 2016 rose to 61 percent.
"Even if they do raise rates in December, the trajectory of hikes is starting to come down, and that's giving stocks a bit more of a bid," said Bill Schultz, who oversees $1.2 billion as chief investment officer of McQueen, Ball & Associates Inc. in Bethlehem, Pennsylvania.
The Fed's so-called "dot plot," used to signal its outlook for the path of interest rates, showed that officials expected one quarter-point rate increase this year. Three policy makers projected that keeping rates unchanged this year would be most appropriate.
The Fed's statement came after the BOJ altered policy on Wednesday, giving it scope to keep easing to revive the economy and inflation, while limiting the negative impact on bank earnings. Japan's central bank said it would adjust the volume of its asset purchases as necessary in the short term, while keeping it at about 80 trillion yen ($780 billion) annually over the long term. It left the benchmark interest rate unchanged at minus 0.1 percent.
Stocks
American equities rallied after the Fed's decision eased market anxiety, removing for at least six weeks a factor that has been key to rekindling volatility this month. The S&P 500 gained 1.1 percent to 2,163.12 as of 4 p.m. in New York, the biggest increase for a Fed day since December, when the central bank raised rates for the first time in a decade and the U.S. benchmark ended 1.5 percent higher.
"The market is enjoying a continuation of the reprieve," said Quincy Krosby, a market strategist at Prudential Financial Inc., which oversees about $1.3 trillion. "Between now and December, it's going to be a market that is also data-dependent, it's going to be a market that has other issues to focus on, and that's going to be earnings."
Among shares moving Wednesday on corporate news, Adobe Systems Inc. jumped the most since December 2014 after forecasting a better-than-estimated quarterly profit. FedEx Corp. surged to a three-month high after raising its full-year earnings outlook.
The CBOE Volatility Index tumbled more than 16 percent, the most since June, to erase a monthly gain that had reached 35 percent just a week ago. MSCI's All-Country World Index climbed 1.1 percent, while a measure of emerging-market stocks capped a three-day rally of more than 2 percent.
Shares in Tokyo jumped the most since July after the BOJ's move. Bank stocks surged as Kuroda's board refrained from making deeper cuts to negative interest rates. Exporters advanced as the yen weakened, with the Topix index outperforming the Nikkei 225 Stock Average as the BOJ said it was going to buy more exchange-traded funds tracking the broader gauge.
Futures on most Asian indexes were mixed, with some contracts closing before the Fed's statement. Yen-denominated futures on the Nikkei 225 jumped 1 percent in Chicago top 16,505, despite a surge in the yen versus the dollar. Contracts on Australian and South Korean benchmarks rose 0.6 percent.
Bonds
Yields on 10-year Treasuries fell four basis points, or 0.04 percentage point, to 1.65 percent in New York, according to Bloomberg Bond Trader data. Short-end Treasuries underperformed longer-dated debt, with the difference between two- and 30-year yields falling for a fourth day.
The gap between long- and short-dated Treasury yields has narrowed over the past year as traders bet the Fed would increase short-term rates, curbing the long-term outlook for inflation and economic growth.
"The bond market's reaction is a bull flattener because it's saying the front-end can make a fine-tuning adjustment if they're actually going to hike," Robert Tipp, chief investment strategist in Newark, New Jersey, for the fixed-income division of Prudential Financial Inc., said by phone.
Currencies
The Bloomberg Dollar Spot Index, which tracks the greenback against 10 major peers, fell 0.7 percent to its lowest point in 1 1/2 weeks.
The Fed's position further dims the outlook for the dollar after a 20 percent surge from the middle of 2014 gave way to a slide this year in the run-up to Wednesday. Currency traders are losing faith in the prospects of a continuation in monetary policy divergence with other central banks, questioning the Fed's resole to raise rates after months of inaction.
"The dollar is going to suffer," said Win Thin, global head of emerging markets at Brown Brothers Harriman & Co. in New York. "To me, it's dovish."
The Fed decision comes after the BOJ announced a more flexible approach to expanding stimulus Wednesday, while seeking to control bond yields across different maturities. The yen rallied 1.4 percent versus the greenback after an initial slide.
New Zealand's dollar retreated from an almost two-week high after the country's central bank kept key rates at a record low, but indicated further easing will be required to stimulate inflation.
Commodities
West Texas Intermediate crude climbed 2.9 percent in New York to $45.34 a barrel. Total volume traded was about 10 percent above the 100-day average.
U.S. oil stockpiles fell 6.2 million barrels last week, according to the Energy Information Administration, contrasting with the 3.25-million barrel gain forecast by analysts, and a 7.5 million barrel decrease tipped by the industry-funded American Petroleum Institute. Prices maintained gains after the Fed.
"The inventory number is quite bullish," said Cavan Yie, senior equity analyst at Manulife Asset Management Ltd. in Toronto. "You might have to take these numbers with a grain of salt. The import, production and refining numbers don't point to an inventory drop."
Gold prices jumped given tighter monetary policy is typically negative for the precious metal because it doesn't pay interest. Bullion's 25 percent rally in the first half of the year has sputtered this quarter, partly on concern that the Fed could make a move on rates as soon as this month.
Before it's here, it's on the Bloomberg Terminal.
LEARN MORE