Photographer: Daniel Acker/Bloomberg
Iowa County Could Forecast Trump Success or Failure
The demographics of Delaware County present a challenge for Hillary Clinton.
By
If Donald Trump becomes America's 45th president, it will almost certainly mean that he won in places like Iowa's Delaware County, where demographic, political and economic headwinds present a challenge for Hillary Clinton. 
The county has a low proportion of college-educated residents, an economy that recovered more slowly from the recession than the state as a whole and a population that's almost entirely white. It's also a locale that, despite splitting almost exactly evenly between President Barack Obama and Republican Mitt Romney in 2012, shows why this state is currently a toss-up, not the easy Democratic win of the past two elections.
On Main Street in Manchester, the county seat with about 5,100 inhabitants and a bar called the "Blue Collar," few are reveling in being an electoral signpost.
"I think we're screwed," said Tari Deutmeyer, 42, a nurse who lives in the county and considers herself and independent voter. "You get to pick between a liar and someone who doesn't know what the heck he's doing. I'm going to pray for some divine intervention before going to the polling place."

It's not hard to find voters in Delaware County. With a voting age population of about 13,200, it recorded 9,405 ballots in 2012, a 71 percent turnout. The window to reach those voters, however, could close just a bit sooner than elsewhere.
Cornfields around the area are brown as the crops dry down ahead of harvest in October, when farmers and those who support the agricultural economy will have less free time for politics. Iowa also starts early voting Sept. 29, just three days after the first presidential debate.
For now, Trump appears better positioned for Iowa's six electoral votes. A Monmouth University poll of likely voters released late last week had him leading by eight percentage points, an advantage almost double the average from recent Iowa surveys compiled by RealClear Politics.
Brad Anderson, a Democratic strategist who was Obama's Iowa director for 2012 re-election campaign, said the state is likely to revert back to the kind of closer presidential elections it had in 2000 and 2004. In those years, Al Gore beat George W. Bush by three-tenths of a percentage point and Bush beat John Kerry by less than seven-tenths of a percentage point.
"It's going to be close and that's more par for the course for the state," Anderson said, adding that Obama was an outlier with wins of 9.5 points in 2008 and almost 6 points in 2012.
"He loved Iowa and Iowa loved him," Anderson said. "It's the state that launched him and it was his neighboring state and he's always had an affinity for the state. We all have to remind ourselves that this is not 2012."
The 2012 vote in Delaware County was much closer than it was statewide, with Romney beating Obama, 4,636 votes to 4,616 votes.
Demographics may be competing against Clinton this year, as race and educational attainment have emerged as two of the most extreme fault lines in this presidential campaign. Trump polls best among white voters with the lowest levels of educational attainment, like many of those in Iowa.
Overall, Iowa ranks 36th for share of residents with a bachelor's degree or higher. The statewide average is 26.4 percent, but in Delaware County it's just 14.9 percent.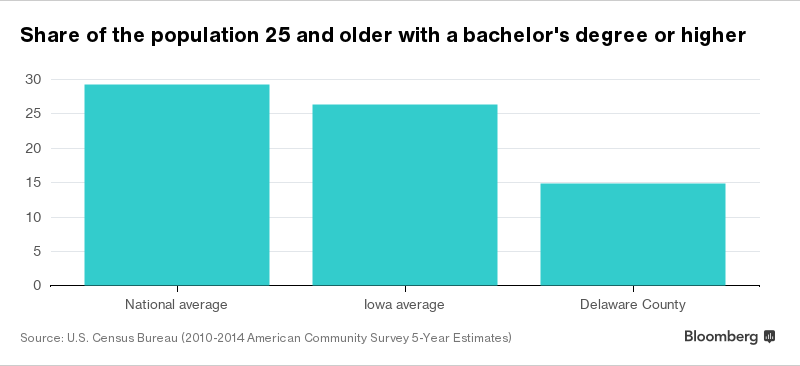 The county is also 97.7 percent non-Hispanic white. That's white even by the standards of Iowa, which is 87.8 percent non-Hispanic white. Just three of the state's counties have less diversity than Delaware.
Barry Funke, 44, an owner of an auto detailing business in Manchester, is one of those county residents who didn't complete a four-year degree.
"I think I'm going to go for Trump because Hillary has too much baggage behind her," Funke said, as he took a break from polishing a black sports car in a garage that was once part of a gas station. "We need someone with common sense who won't let in all these Muslims that we don't need."
Trump's message of economic deterioration rings true with Funke, who says he's grown frustrated by America losing jobs to Mexico and other countries.
"What I like about Trump is that he isn't politically correct," he said. "It might hurt him with foreign relations, but hopefully there are enough people to guide him."

Steve Grubbs, a Republican strategist in Iowa, said Clinton is being hurt in the state by defections to Trump of factory workers and other blue-collar voters like Funke.
"That's a voter Clinton is struggling to hold onto," he said. "Even more, Iowa has an unusually large portion of its voters over 65, and that's a sweet spot for Trump."
By some standards, Delaware County has been lucky. The county's unemployment rate got as high as 8.7 percent during the peak of the recession, although it was down to 3.8 percent in June.
That doesn't mean people are bullish about the future and some employers may be holding off on investment decisions and hiring until the outcome of the election is clear.
"They are just waiting," said Kathy Hutchinson, the area manager in Manchester for a staffing agency. "I haven't seen it to this extent in past elections. There are a lot of unknowns."
In terms of her own vote, Hutchinson said she's torn.
"If I had to vote today, I don't know what I would do," she said. "I think Trump is horribly egotistical, but I want to look beyond him as a person and try to see his policies."
That's similar to the approach being taken by Steven Durey, a 28-year-old kitchen and bath installer who lives in the county and is likely to vote for Trump.
"I'm voting for a Republican who will potentially have to pick several Supreme Court justices in their terms," said Durey, who voted for Senator Rand Paul of Kentucky in Iowa's first-in-the-nation presidential nominating caucuses in February and considers himself a "moderate" Republican.
Trump finished second in Delaware County to Senator Ted Cruz of Texas in the caucuses, 35.5 percent to 22.1 percent. Republican activists in the county say the billionaire businessman brought new people into the process and they are likely to back him in November.
"I've seen a lot more new people out at the caucuses and at our Republican dinner this month," Clifford Bunting, 81, the co-chairman of the Delaware County Republican Party. "There are just not a lot of people committing themselves on either side right now."
Although campaign signs for either candidate are still minimal in the county, Trump's campaign is making some Delaware County efforts. Sam Clovis, a top Trump adviser who is well known in the state because of his 2014 unsuccessful U.S. Senate bid, attended the county party's annual dinner as a surrogate.
Megan Jack, an instruction coach for teachers who led the county's Democratic Party through the caucuses, said Clinton's campaign has been "very active" in the county all year.
Jack, 29, said she's also buoyed by what she hears from some of her Republican friends.
"They just can't vote for him because of some of his rhetoric and the hate mongering that he tends to lean towards," she said. "I think a lot of them may stay home and that could hurt local Republicans in the area."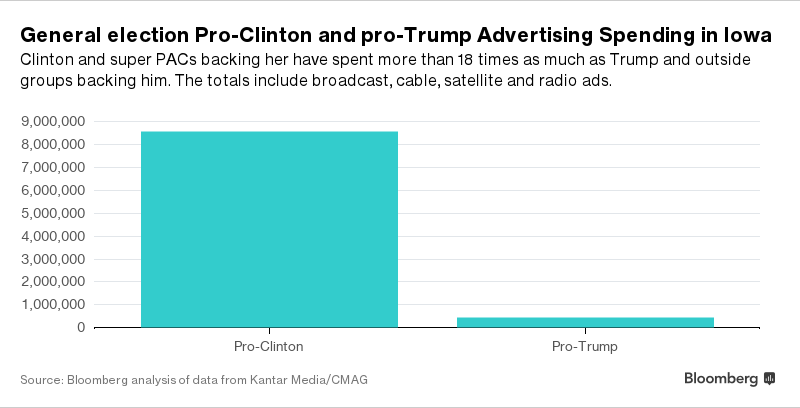 Randy Parrott, 65, a registered Republican who lives outside Manchester and works as an insurance agent, said he doesn't plan to stay home on Election Day. But, he also might not vote for his party's nominee.
"I could end up waiting to see who does something completely stupid between now and the election," he said. "I've never been that way before, but I may leave it blank."

Before it's here, it's on the Bloomberg Terminal.
LEARN MORE