How a 'Trump Factor' Could Be Behind the Rise in Yields That's Shaking Global Markets
The Republican nominee is also boosting the U.S. dollar and hurting emerging market currencies, says SocGen.
By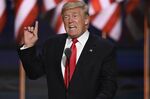 Donald Trump is making the 10-year Treasury yield great again, according to Societe Generale SA.
A team led by Vincent Chaigneau, Global Head of Rates & FX Strategy, says the increase in the real estate mogul's odds of ascending to the presidency, as reflected in recent state and national polls, has "contributed to the back-up in yields."
The selloff in global bonds, which began in Japan, is said to be the proximate cause of the weakness in risk appetite and volatility across asset classes in September, with many analysts pinning the increase in yields on worries over the willingness or ability of central banks to continue easing monetary policy.
According to the SocGen strategists, there's also a Trump Factor mixed into the equation.
The shrinkage of the Clinton-Trump spread has also seemingly benefitted the U.S. dollar and hurt emerging market currencies, SocGen's team added.
Recently, Citigroup Inc. strategists suggested that long greenback, short U.S. long bonds, short stocks, and long gold positions would fare well if were Trump to emerge victorious in November.
David Woo, head of global rates and currencies research at Bank of America Merrill Lynch, said a Republican clean sweep of the presidency and both legislative houses would cause the U.S. economy to "take off in a big way" next year.
Echoing these sentiments, Chaigneau suggested that investors shouldn't buy the dip in bonds yet.
SocGen sees a rotation from monetary to fiscal stimulus underway, which means yields are poised to rise further — especially "if Trump continues to progress in the polls."
Trump's spending promises may boost economic growth enough to force the Federal Reserve to pursue a more aggressive tightening of monetary policy than investors have currently priced in, and protectionist trade measures proposed by the candidate are also inherently inflationary.
As such, a President Trump does "not look particularly bond-friendly," according to the strategist.