German Ifo Head Calls On EU to Offer Brexit Concessions to U.K.
By , , and
Hard break from EU market would hurt both sides, Fuest says

Lack of post-Brexit influence in EU seen as punishment enough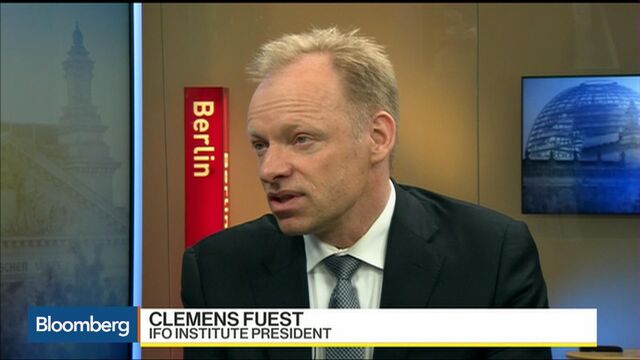 The European Union should offer the U.K. some leeway to limit migration to avoid a hard break with Europe's economy that would hurt both sides, according to Clemens Fuest, president of the Ifo economic institute.
Cutting post-Brexit Britain off from the EU's internal market, including for the financial services industry that's one of the backbones of its economy, would trigger economic fallout, the German economist told Bloomberg Television. EU negotiators should step back from making open migration a condition of participation in the single market, Fuest said.

"It would be very difficult and very bad indeed if Europe committed to this point," he said in an interview Monday. "We have a common interest in minimizing the economic damage."
After U.K. citizens voted on June 23 to exit the European Union, European leaders and officials in Prime Minister Theresa May's government are trading barbs over the country's prospective participation in the EU's single market. While Britain's Brexiters campaigned for a halt to migration from EU countries, the other 27 EU leaders insist that open borders are essential for any access to the internal market.
'Fair Price'
The U.K. would already pay a "fair price" if it were part of the single market as a non-EU member because it wouldn't have any decision-making powers in the bloc, said Fuest, whose Munich-based institute is one of Germany's leading economic research organizations.
"There are decision makers in the EU who are not willing to come to an arrangement with Britain that minimizes the cost of Brexit for the EU as a whole," he said. "There is little flexibility at the level of the EU and this is very stupid. The Europeans shouldn't dig themselves into a corner."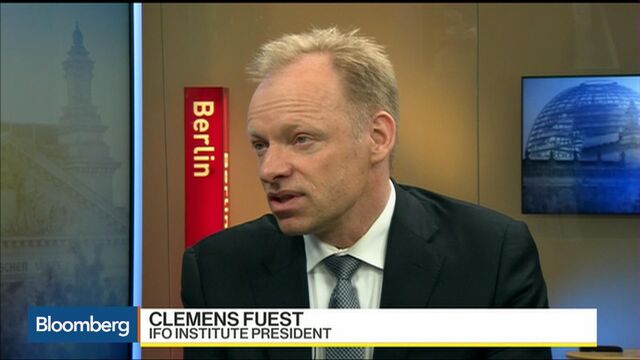 Britain's Chancellor of the Exchequer Philip Hammond is ready to accept an exit from the common trading area, including banks' crucial access to clients on the continent, to win the restrictions on immigration that voters demanded, according to two officials familiar with his thinking.
Fuest said it's an illusion for European leaders to assume that a hard line on Brexit would dissuade other member states from exiting as well. It would also confirm stereotypes on the British right about an EU super-state.
"People like Nigel Farage said that the EU is an organization that will punish the members that resist it, and in a way this would mean confirming this," Fuest said, referring to the former leader of the U.K. Independence Party.
Sign up to receive the Brexit Bulletin, a daily briefing on the biggest news related to Britain's departure from the EU.
Before it's here, it's on the Bloomberg Terminal.
LEARN MORE