Deutsche Bank's Low Capital Makes It No. 1 for Risk in Study
by
Data shows German lender's leverage ratio continues to slide

Report released by FDIC Vice Chairman Hoenig every six months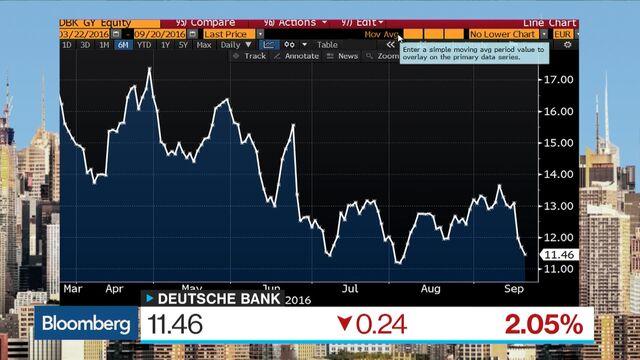 Deutsche Bank AG's status as the riskiest among its peers is worsening, based on a U.S. regulator's measure of leverage, adding to the lender's woes as it braces for a settlement over mortgage securities.
Leverage ratio -- a lender's capital measured against its assets -- at Deutsche Bank lags behind the rest of the world's major banks, according to data released Tuesday by Federal Deposit Insurance Corp. Vice Chairman Thomas Hoenig. A lower ratio means the German bank has less of a cushion if a crisis arises. The figure was 2.68 percent as of June 30, down from a year earlier and about half the average of the eight biggest U.S.-based firms including JPMorgan Chase & Co. and Citigroup Inc.
Hoenig -- among the loudest advocates for stronger bank-capital requirements -- every six months releases a tally of capital levels at more than two dozen of the largest banks doing business in the U.S. While it's not an official scoring by the FDIC, Hoenig's calculations put more emphasis on derivatives exposure, which he's said is the best way to figure out the riskiness of each institution. The regulator has said before that Deutsche Bank's capital ratio is too low.
"As markets have recovered and as central banks around the world continue quantitative easing programs, the incentives for increasing financial leverage have intensified," Hoenig said in a statement.
Renee Calabro, a spokeswoman for Deutsche Bank, declined to comment.
Headlines that the Justice Department might seek as much as $14 billion in sanctions against the bank's mortgage-backed securities business sparked analyst comments that the lender could become significantly under-capitalized in the event of a big settlement and may need to raise capital.
The bank's investors welcomed recent indications that the Frankfurt-based firm was considering the sale of some of its asset management operations. Chief Executive Officer John Cryan earlier this month told staff that the asset-management business will remain an "essential part" of the firm.
Hoenig's tally of leverage uses the International Financial Reporting Standards, which he has said weighs derivatives in a "more complete" way than calculations used by the banking agencies.
His report notes that another measure of leverage -- the one used in existing capital rules -- has Deutsche Bank at 3.4 percent, though that's still lowest among its peers. The bank said in a document released this month that it's aiming for 5 percent by 2020.
Before it's here, it's on the Bloomberg Terminal.
LEARN MORE