The Bank of Japan's Moment of Truth: Decision Day Guide
by
A slim majority of economists forecasts expansion of stimulus

Comprehensive review may bring changes to Kuroda's program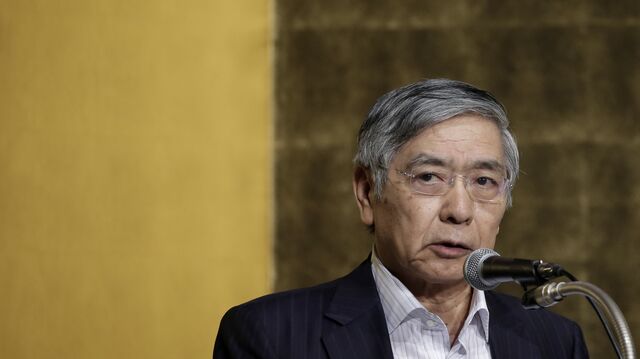 The Bank of Japan's two-day policy meeting ends Wednesday, with investors anxiously awaiting the outcome of a comprehensive policy review that may set the future course of Governor Haruhiko Kuroda's monetary stimulus program.
The biggest questions for many are whether the BOJ is willing to increase the record scale of its asset purchases or to cut its negative interest rate further. By doing neither at recent meetings, even as some consumer prices were falling, Kuroda and his board have fueled speculation that the BOJ's main policy tools are running up against their limits. Taking little or no action today risks reinforcing that view.  
A narrow majority of economists surveyed by Bloomberg expect the BOJ to announce expanded stimulus. Most of the rest forecast action in November, December or next year, while a few predict no additional easing at all. Any weakening of the BOJ's commitment to push further with stimulus is likely to force the yen higher and weigh on stocks, while a boost from Kuroda may soften the currency and underpin Japanese shares.
"This is going to be the most important meeting for the BOJ in quite some time," said Daisuke Karakama, chief market economist in Tokyo for Mizuho Bank. "Any disappointment will trigger the appreciation of the yen and will make the BOJ's job of reaching its 2 percent inflation target even more difficult."
The policy-board meeting typically ends between noon and 1 p.m., and a policy statement is released shortly after. Kuroda will speak to reporters in Tokyo from 3:30 p.m.
Negative Rates
The BOJ's most likely choice for any move will be to push its key interest rate further into negative territory, according to the economists surveyed by Bloomberg. The policy rate, which applies to a portion of reserves that commercial banks park at the BOJ, now sits at minus 0.1 percent. 
The rate hasn't changed since its announcement in January spooked consumers and sparked a backlash from the financial industry.
Kuroda and Deputy Governor Hiroshi Nakaso both acknowledged in speeches earlier this month that the policy had cut into profits by driving down longer-term interest rates, but stressed its powerful effects in pushing down borrowing costs for businesses and consumers. Kuroda reiterated that there's "ample" space to cut the rate.
JGB Purchases
At least some BOJ board members still favor stepping up buying of Japanese government bonds over a rate cut, if the bank decides additional stimulus is needed, people familiar with the matter told Bloomberg earlier this month. Among those open to expanding easing, opinions are divided on which single step or combination of steps would be most effective, people familiar with the matter said.
To give itself more flexibility, the BOJ may also switch its targets for expanding the monetary base and purchasing JGBs to ranges, rather than specific numbers, according to some economists.
Also possible is either a tweak to or an abandonment of its guidance on the range of maturities government bonds that it buys, according to people familiar with the discussions. Any shift would reflect a desire by policy makers to give themselves greater flexibility as they continue with the unprecedented scale of debt purchases and manage their impact on the yield curve, the people told Bloomberg earlier this month.
Monetary Base
Some observers see the prospect that the BOJ could separate what have until now been unified targets for expanding the monetary base and making JGB purchases. The central bank could classify some of its other asset purchases as contributing to the growth in the monetary base, or add new assets.
One view is that this could lessen concerns about the sustainability of JGB purchases in the BOJ's endeavor to boost the monetary base.
Vote Tally
How the board votes on any policy decision may give clues to the prospects for future action. The vote has been 7-2 on the negative rate policy since February, with Takehiro Sato and Takahide Kiuchi opposing it. If the number of dissenters rises or a bigger division emerges on any new measures, Kuroda will have a harder time persuading his fellow board members when more action is needed.
Comprehensive Review
The comprehensive review ordered at the last policy meeting in July makes predicting the outcome of today's gathering all the more difficult.
The board could act immediately on the findings of the review, or pause while it takes time to digest and debate any needed adjustments.
Another advantage of pausing would be the opportunity of incorporating the conclusions of the review into BOJ board members' economic projections, which are due for a quarterly update at the next meeting. Kuroda has previously announced policy enhancements in conjunction with these projections.
Fed Meeting
Kuroda will also be mindful that the initial market impact of any change by the BOJ could be overshadowed later Wednesday when the U.S. Federal Reserve policy meeting concludes.
The purpose of the review is to assess economic developments, activity and prices under the BOJ's current program with a view to helping it achieve its 2 percent inflation target as soon as possible.
Despite more than three years of unprecedented stimulus, a key price gauge is back where it was when Kuroda took over in 2013, and the economy continues to swing between modest expansion and contraction.
Forward Guidance
Some economists think the BOJ may provide clearer and stronger forward guidance on its intentions as one way of bolstering its inflation campaign. Kuroda has already pledged to continue monetary easing until Japan achieves stable 2 percent inflation.
Nakaso said recently that it's meaningless to discuss the two-year time frame for the CPI goal given that that amount of time has already passed. Barclays Plc expects the BOJ to scrap the time frame and to maintain its stance to meet the goal as soon as possible.
Hiromichi Shirakawa, chief Japan economist at Credit Suisse Group, said the BOJ could pledge to expand JGB holdings to as much as 50 percent of the market, and to keep some of them permanently. The BOJ now owns more than a third of the JGB market.
Risk Assets
The BOJ almost doubled its purchases of exchanged-traded funds at its July meeting, though it kept the target for total asset purchases unchanged. ETF purchases could be increased again, along with the amount of other risk assets.
The central bank is also buying Japanese real estate investment trusts, corporate bonds and commercial paper, and these could be expanded.
Suggestions for other assets include domestic regional bonds and even foreign bonds, though Prime Minister Shinzo Abe has said purchases of foreign bonds, if meant as a form of currency intervention, would be illegal under the Bank of Japan law.
Lending Support

The BOJ could follow the European Central Bank in providing funds for bank lending at potentially negative rates. Kuroda in May described the ECB's plans as "extremely bold and unique" and reiterated the BOJ's stance that it would further ease policy if it thought it was necessary to achieve its inflation target.
Some analysts also suggest that there could be an expansion of the BOJ's dollar-lending facility, which was increased to $24 billion in July when it also started a new program to lend some of the BOJ's bonds to financial institutions.
Before it's here, it's on the Bloomberg Terminal.
LEARN MORE