Debt and Death Bind Chicago as Emanuel Seeks to Bolster Cops
By and
Paying for pension promises competes with calls for more cops

A shooting every two hours offers grim diversion from finances
In Chicago, the cost of living goes up to pay for pension promises made long ago, while the cost of dying provokes alarm in a city that this year has seen an almost 50 percent spike in homicides.
Every man, woman and child in Chicago is already on the hook for $12,600 to rescue wobbly public pensions. This week, residents will learn from Mayor Rahm Emanuel how he plans to add more police to stem a wave of more than 500 killings and 2,500 shootings, mostly in black and Hispanic neighborhoods. The body count outstrips that of New York and Los Angeles combined.
"Why do our communities look so different in one city?" said Diane Latiker, founder of Kids Off the Block, an anti-violence group in the South Side neighborhood of Roseland. "When there's a crisis, there's money that is always found by all means necessary. This is a crisis."
In response to a deadly surge in violence this year, some cities -- such as Dallas and Denver -- are moving to put more officers on the street. Nowhere is a pledge to beef up the police force more costly than in Chicago, which is fighting an expensive two-front war -- one on crime, the other to keep the junk-rated city afloat.
The city council raised water and sewer levies last week to avert insolvency in the municipal pension fund, which was due to run out of money within a decade. That's on the heels of a record half-billion dollar property-tax increase last October to prop up police and fire retirement funds, and a telephone tax hike to boost the laborers' pension. The four systems are short a combined $34 billion.
Chicago will shell out about $1 billion from the 2017 budget for pensions. That's enough to cover more than 7,000 police officers, based on an estimated cost of $138,000 a head in the first year for salary, supervision and other benefits. The average cost of a police officer is $180,000.
The city already has 12,500 police officers, second only to New York, with 35,800 uniformed members.
It costs about $72,000 to hire a cop in Denver straight out of the academy, covering salary and benefits, according to that city's police department. In New York, it's about $90,000 to hire a police officer, plus an estimated $14,000 for training, according to the city.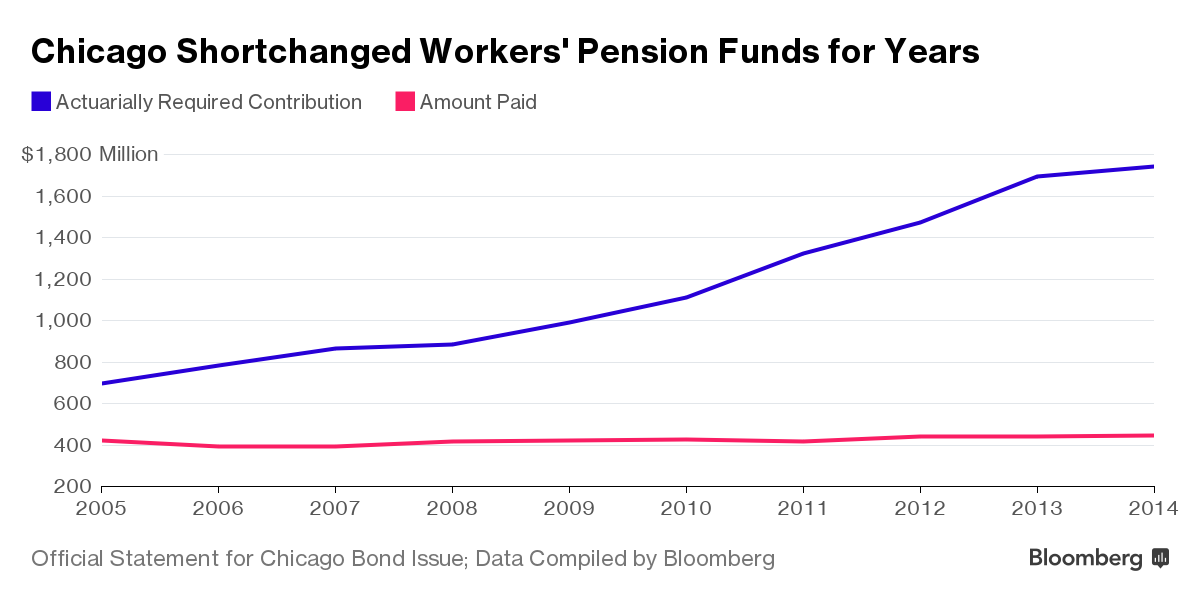 The rates of homicides and shootings have soared almost 50 percent this year and murders are on pace to top 600, the highest in 15 years. Daily violence is a grim diversion from insolvency concerns. One local crime website keeps track of where homicide victims were shot -- head, torso, limbs -- and how often someone gets shot. That's about every two hours.
Emanuel, a Democrat whose public approval rating has been driven into the low 30 percent range by unpopular tax increases and the stunning crime surge, is scheduled to address Chicago's violence in a Thursday speech. By his own admission, the mayhem on the city's South and West Sides is "not a one-nail issue," indicating that any solution will involve more officers, training and technology.
"The 2017 budget will be built around ensuring we are providing the necessary resources to the Police Department," said Molly Poppe, a city spokeswoman, who added that there will be no large general tax hikes, including property, sales, or gas levies, to fund law enforcement. "Adding more resources to police at this time is an important priority, and it will be funded."
Laurence Msall, president of the Civic Federation, a Chicago nonprofit that tracks state and municipal finance, said the city government "will be hard-pressed to come up with significant new resources to hire new police or any other government employees. The city's pension obligations are crowding out all other priorities."
Emanuel has made progress -- the projected $138 million deficit is the smallest in 10 years and his plan has all four pensions on track to reach 90 percent funding in about 40 years.
It's not enough. Starting in 2023, the city will need to find more money for the municipal pension. Even with the higher taxes, the unfunded liabilities could grow for up to another 15 to 20 years, according to Moody's Investors Service. Once all the levies are phased in, 40 to 45 cents of every dollar of the budget could go to pensions and debt, Moody's estimates.
Increases in crime last year in Las Vegas, St. Louis, Baltimore, Cleveland and Milwaukee vaulted urban violence into the presidential campaign. Republican nominee Donald Trump said last month Chicago police could stem this year's violence by being "much tougher."
That prompted the Police Superintendent Eddie Johnson to respond, "If you have a magic bullet to stop the violence anywhere, not just in Chicago but in America, then please, share it with us."
Dallas, where a sniper gunned down four police officers in July, is considering hiring 549 new officers in the next fiscal year. Denver Mayor Michael Hancock last week proposed adding 48 officers in his 2017 budget, following downtown violence. Through the first half of this year, murders are up in 29 of the nation's largest cities.
"Urban issues are on nobody's front burner," said Milwaukee Police Chief Edward Flynn, whose city erupted into rioting last month after officer shot a black man who they said was fleeing them while armed with handgun. "Most of our state legislatures are hostile. Congress has been hostile, and it's all on the backs of local taxpayers to deal with the issue."
For many cities, the timing couldn't be worse. State and local governments are under pressure to make up pension shortfalls after the 2008 financial crisis. At the end of June, U.S. public pensions were $1.9 trillion short of what they needed to pay benefits, according to Federal Reserve Data.
In Chicago, money may not be a panacea. Adding police can unreasonably raise public expectations that crime will drop.
"The police have the relationship to crime that doctors and nurses have to illness and disease," said Richard Rosenfeld, a professor of criminology and criminal justice at the University of Missouri-St. Louis. "It's a mistake to assume that the crime problem is solely a police problem."
Chicago's surge in violence comes in the wake of the November release of a video showing a white officer shooting Laquan McDonald, a black teenager, 16 times. The Justice Department started a civil-rights investigation of the police department in December, leaving the city vulnerable to even more costs.
Ira Acree, pastor of Greater St. John Bible Church, in the crime-riddled Austin neighborhood, said cops can't be held responsible for addressing generations of racial and social ills.
"The police can't just be thrown under the bus on this," he said. "The burden is on political leaders. The burden is on all of us."
Before it's here, it's on the Bloomberg Terminal.
LEARN MORE