Drinks
Caribbean Storm Cocktail Recipe: An Amped-Up Dark 'n' Stormy
Rum, ginger, and a special twist make the Caribbean Storm a most refreshing fall cocktail.
By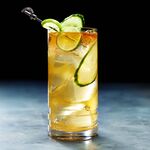 For a two-ingredient drink, the Dark 'n' Stormy is surprisingly easy to botch: 4 ounces of ginger beer, followed by 2 oz. of Gosling's Black Seal rum. But overcrowded beach bars sling watery or cloyingly sweet versions that give the elegant original a bad name. (One major misstep: using ginger ale instead of ginger beer.) 
Today, high-end destinations are reclaiming the flavor duo, and one of the most delicious interpretations is the Caribbean Storm at the Ritz-Carlton Key Biscayne in Miami. Head bartender Alejandro Rodriguez starts with the oakiness of Mount Gay Black Barrel rum, then cuts it with muddled cucumber and the floral St. Germain liqueur. It's topped with ginger beer and a floater of the Italian amaro Fernet for a slightly bittersweet finish.
"It's a very heat-friendly cocktail," Rodriguez says. Although Dark 'n' Stormy-style drinks are generally thought of as perfect for summer, the molasses seasoning in the dark rum and the sharp ginger notes deliver a satisfying autumn punch, too.
Ingredients
2 oz. Mount Gay Black Barrel
1 oz. St. Germain
1 oz. lime juice
1 oz. simple syrup
1 oz. ginger beer (not ginger ale)
½ oz. Fernet
1 cucumber
1 lime slice
Muddle 2 or 3 cucumber slices in the bottom of a Collins or hurricane glass. Add ice, rum, St. Germain, lime juice, syrup, and ginger beer; stir. Float Fernet on top, and garnish with a cucumber slice and lime. 
Before it's here, it's on the Bloomberg Terminal.
LEARN MORE