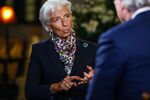 International Monetary Fund Managing Director Christine Lagarde has lauded Canada as a model for deficit spending to boost flagging economic growth. The problem is its lower-tier governments — from the commercial capital, Toronto, to far northern Nunavut — don't have much room to contribute to the stimulus.
Looking beneath the national level, the debt burden for city and provincial governments has climbed to a record high of 66 percent of GDP. Among other expenditures, provinces are on the hook for running the public health care system, a big-ticket cost that's expected to balloon as the baby boom generation starts to retire.
That's a hurdle for Prime Minister Justin Trudeau's plan to boost infrastructure spending because traditionally those lower levels of government chip in a third or half of the money to build new projects.
"Canada's ballyhooed fiscal space may be a little overrated," Bank of Montreal chief economist Doug Porter wrote in a research note. "The country can scarcely be complacent about its fiscal position."

Canada has had success in bringing down the deficit. The federal government's room to spend has improved since deep cutbacks in the 1990s to head off a deficit crisis. The ratio of federal debt to gross domestic product has fallen below 50 percent from about 75 percent two decades ago, helping to protect restored top credit ratings as other nations faltered.    



Lagarde's praise during her visit to Ottawa last week is against the backdrop of advanced economies (U.S. and Europe) that can't seem to spur growth even with central bank rates low and balance sheets inflated. Debate is rife over whether more fiscal stimulus is needed to get global growth out of its rut and Lagarde hopes that Canada's growth strategy will "go viral."
Before it's here, it's on the Bloomberg Terminal.
LEARN MORE