markets
Calstrs Probably Will Miss 7.5% Return Target for Third Year
By
Pension plan is reducing fixed-income exposure amid low rates

Second-largest U.S. pension is betting on long-short funds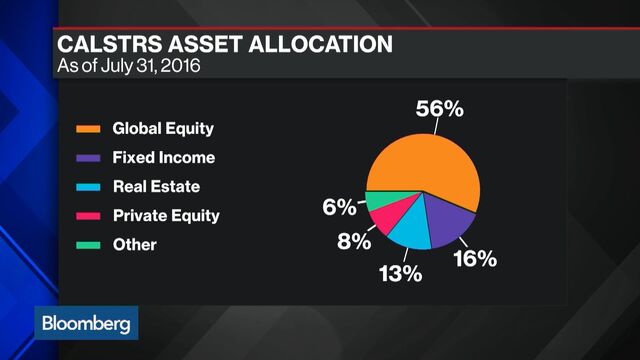 The California State Teachers' Retirement System probably will miss its annual return target of 7.5 percent this year for the third-consecutive time, said Christopher Ailman, chief investment officer of the second-largest U.S. pension fund.
"I think it is achievable over a long time period," Ailman said in an interview on Bloomberg TV Tuesday. "This year and next week, no."
Calstrs, which had about $192.9 billion in assets as of Aug. 31, returned 1.4 percent in the fiscal year ending June 30 and 4.8 percent in fiscal 2014-2015. The largest U.S. pension fund, the California Public Employees' Retirement System, has missed its 7.5 percent target for five of the last 10 fiscal years and projects it will withdraw more money than it earns from investing through fiscal 2031-2032.
Ailman said Calstrs is reducing its exposure to fixed-income investments to increase returns in the current low- and negative-interest rate environment. He said Calstrs is looking at long-short equity funds to reduce losses when markets turn down.
"These will give us the balance we used to add from fixed income," Ailman said.
The U.S. is undergoing a period of slow growth because of demographic factors, highlighted by the baby-boom generation heading for retirement before younger millennials can compensate for it by buying homes and other consumer spending, Ailman said. That means Calstrs can expect to achieve higher investment returns in the future, while diversifying for now into assets such as real estate and in emerging-market economies.
Achieving 7.5 percent still isn't likely in the short term, he said.
"We did not do it last year," Ailman said. "We probably will not do it this year. It is early in the year. But we have said, this will be a low-growth cycle in these couple of years."
(
Updates with Ailman comment in last paragraph . An earlier version corrected Calpers record.
)
Before it's here, it's on the Bloomberg Terminal.
LEARN MORE