Brexit Bulletin: Theresa May Woos Wall Street
Meanwhile, if Brexit were a cake, it would apparently be quite hard to eat.
by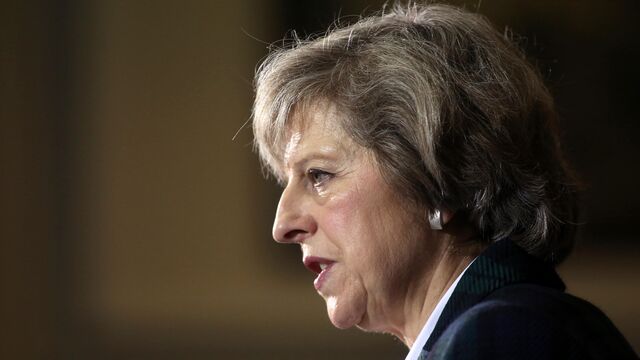 Sign up to receive the Brexit Bulletin in your inbox.
Theresa May isn't feeling the chilly winds blowing in from eastern Europe.
After Poland on Monday joined a string of neighbors warning they might veto a Brexit deal, the prime minister dismissed the threats by saying it's in everyone's interest to reach an agreement. 
The 27 EU countries "will sign up to a deal with us," May told reporters en route to New York. "A good deal for the U.K. can also be a good deal for the other member states. I believe in good trading relations."
Raising the ante today, the Czech Republic's top Brexit negotiator, Tomas Prouza, told Bloomberg's Michael Winfrey that "there is no way whatsoever for the U.K. to have the cake and eat it at the same time."
"I see exactly zero chance of success if the U.K. wants to create first- and second-class citizens in Europe or if it tries to separate the four basic freedoms of movement."

Elsewhere in the region, Malta's Prime Minister Joseph Muscat said any deal for the U.K. must be "inferior" to what it has now.
Not everyone in Europe is adopting an aggressive stance. Swedish EU Minister Ann Linde said during a Bloomberg panel event in Stockholm that she hopes to discover "some kinds of compromises on both sides."
Clemens Fuest, president of the Ifo economic institute, said the EU should offer the U.K. some leeway to limit migration to avoid a bitter break-up.
Don't Leave
May last night used a New York meeting of executives from major U.S. companies to assure them that Brexit shouldn't be a reason to withdraw investment from the U.K. Among the companies she met: Goldman Sachs, Morgan Stanley and BlackRock.
Many U.S. companies find Britain an attractive place to base their European operations, but the country's vote to quit the EU could jeopardize that. Bankers are especially worried given many use the U.K. as a base for their EU operations.
"Something like a million people in the U.K. wake up each morning and then go to work for an American company," May told reporters traveling on her plane. "I will be talking to them and hearing from them what their emphasis is in terms of the issues they want us to address."

The Financial Conduct Authority today released data showing about 13,500 firms do business in and out of the U.K. under so-called passporting rules, underlining the significance of Britain's access to the single market for companies on both sides.
Hard Brexit?
For all May's resolve, the warnings from the east make a hard Brexit even more likely. 
The influence of post-communist countries cannot be ignored, because all EU leaders must agree unanimously on the guidelines for Brexit talks before passing an actual exit deal via qualified majority. Ratifying a new trade accord is even more complex.
As John Springford of the Center for European Reform argued in a report yesterday, eastern European countries have a comparative advantage in providing low-value added services.
"Free movement is the only way that most such services — in construction, retail and so forth — can be traded. Poland will be unwilling to allow U.K. services companies to take market share while its citizens are denied equivalent opportunities in the U.K."
The recent spate of decent economic data out of the U.K. makes a hard Brexit even more likely, Springford pointed out.
Pro-Brexit – and Pro-EU
Conservative lawmaker Jacob Rees-Mogg is as euroskeptic as they come, but even he wants Britain to impose sweeping new EU rules on financial markets.
Rees-Mogg is among those arguing the U.K. should introduce the EU market-rule overhaul known as MiFID II as intended in January 2018, John Glover and Silla Brush of Bloomberg News report today.
His reasoning? Not doing so would complicate Brexit negotiations, he says, and the government can always revise the rules for governing trading in stocks, bonds and derivatives once it's out of the bloc.
On the Markets
The pound's decline lifted multinational companies following the Brexit referendum, boosting many stocks traded on the FTSE 100. But sterling may have less sway over British stocks now. Investors are now focusing on economic indicators instead, with stocks and the pound moving in the same direction for the last five sessions, reports Sofia Horta e Costa. That's the longest streak since the June 23 vote.

Those FTSE 100 stocks were up, slightly, on Tuesday, with other European indexes edging higher as well. All eyes are, of course, on the upcoming central bank decisions in the U.S. and Japan. 
In the consumer world, Bloomberg Gadfly's Andrea Felsted looks at above-expected first-half figures from home improvement chain Kingfisher, but warns that things could get tougher if Brexit drives down U.K. consumer confidence over the next few months.
And Finally...
The Daily Telegraph newspaper has a cunning plan for negotiating Brexit. It wants the government to recommission the royal yacht "Britannia" which was retired in 1997 and is now a tourist attraction in Scotland. The idea is to use the vessel again for negotiating the trade deals the U.K. will need to win to ensure life outside of the EU is smooth sailing. 
For more on Brexit follow Bloomberg on Twitter, Facebook and Instagram, and see our full coverage at Bloomberg.com
Before it's here, it's on the Bloomberg Terminal.
LEARN MORE