Billionaire Wang Faces Hurdles in Moving Wanda Listing to China
By
Tycoon told investors he will list unit in China in two years

Move comes as Chinese listings become harder to achieve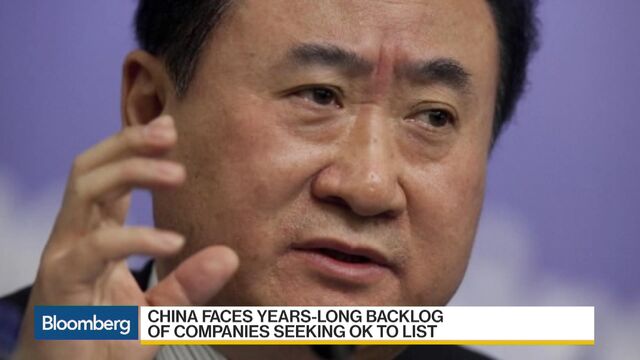 The countdown for Wang Jianlin to list shares of his property unit in China is just beginning, with the billionaire facing a choice between tapping an increasingly difficult market to access or returning more than $5 billion to investors.
Wang is pursuing a higher valuation in mainland China after withdrawing from the Hong Kong exchange Tuesday. He recruited partners to delist the business and told them in 2016 that he'd return as much as 10 percent annual interest plus their original investment, if he failed to take the company public within two years.
Problem is, listing in Shanghai or Shenzhen has gotten tough. There's a years-long backlog of companies seeking regulatory approval for initial public offerings in the country and the government is scrutinizing backdoor listings -- the practice of buying small publicly traded companies to bypass the IPO screening process.
"The key challenge is gaining approval from regulators within its set timetable,"said Matthew Kwok, managing director at China Yinsheng Asset Management Ltd. "China's decision would depend on a lot of factors including market conditions and listing-approval policies and such processes are full of uncertainties."
Representatives at Wanda weren't available to comment.
Success in fetching higher valuations for the unit, Dalian Wanda Commercial Properties Co., would further enrich Wang, whose $33 billion fortune ranks him as Asia's second-richest mogul on the Bloomberg Billionaires Index. It would also put Wang a step closer to his target of running a business empire with $200 billion in market capitalization by the end of the decade, versus less than $50 billion now.
Wang, whose businesses range from property to movies and theme parks, has said this year that he also plans to list his tourism, children's entertainment, department store, internet finance and sports units. His flagship Dalian Wanda Group Co., which houses Wang's main businesses, is also unlisted.
As to Wanda Commercial, China's largest commercial developer by floor area, the developer submitted its listing application with the nation's markets regulator in November. It's not alone as there are 686 companies applying for IPOs in the country, according to the latest data available from the China Securities Regulatory Commission. The waiting list is bigger than the total number of listings in China since 2012.

Despite the Chinese market crash of 2015, companies continue to flock in as Chinese stocks still trade at a higher valuations than in nearby Hong Kong and according to Wanda Group, the gap is particularly wide in real estate. Mainland listings of companies similar to Wanda Commercial trade at an average valuation of nearly 30 times estimated earnings, while the the company was valued at about seven times estimated earnings in Hong Kong, according to the group.
Backdoor listings, or reverse mergers, are Wang's alternative route for a listing but China has been considering curbing the practice. In May, the stock regulator said that it was reviewing market concerns about the flood of Chinese companies de-listing overseas to come back home. A month later, it released draft rules that would double the lock-up period for new shareholders to two years. Earlier this month, the regulator issued revised rules to clamp down on speculation involving backdoor listings.
There are signs that the measures are working. Since May, companies such as China Yongda Automobiles Services Holdings Ltd. and Chinasoft International Ltd. scrapped plans for reverse mergers.
Failure to list Wanda Commercial could be costly for Wang, who recruited investment partners such as Ping An Insurance (Group) Co. to fund the bulk of the funds needed to buy out property developer's Hong Kong-listed shares for HK$34.5 billion ($4.4 billion).