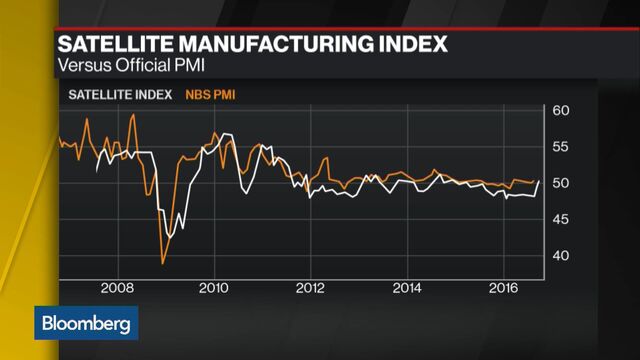 A growing universe of big data offers an increasingly complete alternative view on China's economy, and it's not massively different than the official statistics. 

That's according to a new report by Bloomberg Intelligence economists Tom Orlik and Justin Jimenez, who compared National Bureau of Statistics numbers with those generated from the vast amounts of data and information collected by businesses and governments.

The new gauges affirm that manufacturing is weak, real estate is better, auto sales and online consumption are robust, but malls and tourism are suffering and employment is slipping as old industries shed workers, Orlik and Jimenez wrote. For industrial, property, autos and employment, they said the picture is similar to official data, while for some aspects of consumption, big data are more negative.
"Big data provide an increasingly comprehensive and timely lens" on the world's second-largest economy, the analysts wrote, adding a caveat that such indicators should be interpreted with caution. "In most cases the historical series are short, which makes it harder to distinguish seasonal noise from cyclical signal. In some cases, the series say as much about structural shifts in the economy as they do about the cycle -- for example, the shift to online shopping."
Here's how the gauges compare:

Like the official purchasing managers' index, the SpaceKnow Satellite Manufacturing Index centers on 50 as a dividing line between improving and deteriorating conditions. The San Francisco-based startup uses algorithms to track signs of manufacturing activity in satellite images of 6,000 industrial sites across China. The latest reading of 50.2 in early September is roughly consistent with the official PMI reading of 50.4 in August. Orlik and Jimenez say the bigger question is how to reconcile those treading-water readings with official industrial output data showing 6.3 percent annual growth.

A property resurgence underpins what resilience there is in the industrial sector, Orlik and Jimenez say. A unit of China UnionPay Co., operator of the country's largest payments network, developed an index of card transactions to track real estate sales and other key aspects of the economy. It shows property sales rose 11 percent year on year in August, similar to official data.
Baidu Inc. gauges consumption by tracking visitors to thousands of shopping centers and other destinations. One index shows auto sales up 9.5 percent from a year earlier, in line with official data after a tax break to boost sales. But visitors to malls, restaurants and tourist sites are substantially down. Stores may be losing to online competitors, which is backed up by indexes from e-commerce giant JD.com that show strong growth, while restaurants might be losing traffic to home food delivery apps. That's not encouraging given China's hopes for a shift to a consumer-led economy.

Baidu's employment indexes, based on foot traffic in 2,000 industrial parks around the country, offer a more dynamic reading than the government's incomplete labor market statistics. They show industrial employment slightly down over the last year as old-line factories slash jobs. High-tech parks are faring better, but losing some workers. The results match manufacturing employment PMI showing moderate job losses.

The Core Internet Shopping Price Index by Alibaba Group Holding Ltd. is a big data equivalent to the consumer price index. The e-commerce giant tracks prices of about 100,000 goods and services sold across its platforms, which show average prices down 1 percent in July from a year earlier. While that might signal deflationary pressure spreading from the factory to the consumer, Orlik and Jimenez say it reflects fierce competition on online prices. 


— With assistance by Jeff Kearns
Before it's here, it's on the Bloomberg Terminal.
LEARN MORE