What We Know About Why Couples Get Divorced
One thing Brad and Angelina have in common with ordinary American divorces: about two in three are initiated by women.
By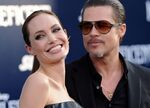 More than 800,000 American couples get divorced each year. Some, such as the reported divorce of Angelina Jolie and Brad Pitt, will get a bit more attention than others. But one fact remains true about all types of marriage: About half end in divorce.