Allergan Buys Two Liver Disease Companies in Less Than a Day
By
Will acquire Tobira for $1.7 billion, Akarna for $50 million

Other liver drug stocks soar: Intercept, Galectin, Conatus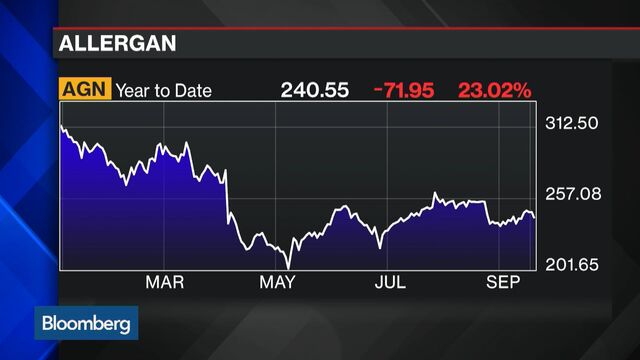 Allergan Plc is on a shopping spree.
In less than 12 hours on Tuesday, the drugmaker announced a pair of acquisitions of companies developing treatments for a liver disease known as NASH, giving the company a ready-made pipeline in one of biotechnology's hottest areas.
Before the market opened Tuesday, Allergan said it would buy Tobira Therapeutics Inc. for as much as $1.7 billion, gaining the company's experimental drugs for NASH, or non-alcoholic steatohepatitis. Then, after the market closed, it announced a $50 million deal to acquire Akarna Therapeutics Ltd., which is also developing NASH treatments.
Allergan seemed to suggest in the morning announcement that more deals might be coming, said Elizabeth Krutoholow, an analyst with Bloomberg Intelligence, but "I don't think anyone thought it would happen that quickly," she said by telephone. "That's crazy."
The Tobira deal, with its 498 percent premium compared to the company's closing stock price a day before, confirms the desire by drugmakers to acquire treatments for the disease. NASH affects 2 percent to 5 percent of Americans, and is becoming more common as obesity rates rise, according to the U.S. National Institutes of Health. In severe cases, it can necessitate a liver transplant.
Stocks of other biotech companies with NASH treatments in their pipelines soared. Intercept Pharmaceuticals Inc. rose 8.5 percent at the close, Galectin Therapeutics Inc. jumped 15 percent and Conatus Pharmaceuticals Inc. soared 19 percent. Even biotech giant Gilead Inc., which has NASH assets, got a boost of 3.5 percent.
Deal Details
For Tobira, Allergan will pay $28.35 a share in cash upfront and up to $49.84 per share if Tobira hits certain sales and regulatory goals, according to a statement Tuesday. The lower price values Tobira at about $533 million based on the number of shares outstanding, almost six times its market capitalization of $89 million as of Monday's close. Akarna got $50 million upfront, and may get additional payments depending on how its drug progresses.
In a tweet, Allergan Chief Executive Officer Brent Saunders said the company was "Building a best in class R&D pipeline and bringing innovation to an unmet need in NASH."
Tobira's lead drug candidate, called cenicriviroc, is designed to tamp down two proteins involved in boosting the immune system's response in the liver, ultimately leading to the inflammation and liver scarring seen in NASH. Akarna's experimental drug, which according to the company's website has not yet been tested in people, is targeted at a protein called FXR that's involved in the fat buildup that can lead to NASH.
Shopping Spree
Allergan has been on a shopping spree for small and mid-sized assets. Last month, Saunders said the company doesn't need to do any "big M&A," confirming a changed dealmaking strategy following the collapse of its planned $160 billion merger with Pfizer Inc. With Tobira and Akarna, Allergan is making its third and forth acquisition this month alone after Vitae Pharmaceuticals Inc., a maker of dermatology medicines, for $639 million on Sept. 14, and ophthalmology gene-therapy firm RetroSense Therapeutics LLC for $60 million on Sept. 9.
For the Tobira deal, Covington & Burling LLP was Allergan's lead legal counsel. Centerview Partners and Citigroup Inc. were Tobira's financial advisers, while Skadden, Arps, Slate, Meagher & Flom LLP and Gunderson Dettmer Stough Villeneuve Franklin & Hachigian, LLP provided legal counsel.
Mark Marmur, an Allergan spokesman, said the company had no plans Tuesday to announce a third NASH deal. The company will hold a conference call Wednesday morning to discuss the acquisitions.
— With assistance by Katherine Doherty
Before it's here, it's on the Bloomberg Terminal.
LEARN MORE