Australia Stock Market Reopens After Worst Outage Since 2011
By and
Trading began late, finished early Monday on technical fault

ASX to issue detailed report of incident later this week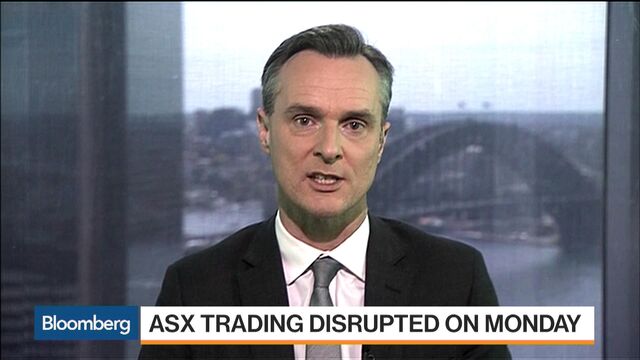 Australian stock trading resumed Tuesday after a technical fault shut the nation's largest exchange in the biggest challenge yet for the bourse operator's new boss.
Less than two months into Dominic Stevens's tenure, the ASX Ltd. chief executive officer was forced to apologize for a hardware failure that saw the equity exchange open late and close early Monday in its worst such disruption in almost five years. ASX said the technical issue had been resolved, after brokerages and investors criticized the firm for not fixing the outage sooner or giving them more details on the malfunction.
"As long as we don't get any recurrence in the next couple of days, this will all be forgotten about within a week," said Karl Goody, a private wealth manager at Shaw and Partners Ltd. in Sydney, which oversees about A$10 billion ($7.5 billion). "Everything seems to have opened as usual. We can get back to worrying about what actually matters -- whether we're going to get a U.S. rate rise, rather than whether trading is open or not."
The outage adds to hurdles facing the dominant operator of Australia's $1.1 trillion stock market, which was already struggling to impress equity analysts due to a deteriorating outlook for capital raisings and the amount ASX is spending on replacing its technology infrastructure. The timing of Monday's glitch didn't help, with traders girding for policy meetings at the Bank of Japan and the Federal Reserve this week. Australia's securities regulator said it was monitoring the problem.

The technical issue that affected Monday's trading has been resolved and processes occurring overnight completed normally, ASX said in a statement Tuesday. Users will be able to query all trades from Monday and the firm continues to investigate the root cause of the problem, according to the statement. ASX said it will release a detailed report of the incident later this week.
The issue arose from a hardware failure in the main database of the equities' trading system and had a number of knock-on consequences that affected the operation of the market, Stevens said in an e-mailed statement late Monday. The disruption wasn't "in any way" related to cyber security, he said.
"What happened today does not meet the high standards of operations and system reliability that we set ourselves, and that our customers should rightly expect of us," Stevens said. The CEO said he "will be speaking to customers to apologize, and to discuss what learnings we can draw to ensure this doesn't happen again."
Most Securities
While most securities started trading at 11:30 a.m. local time on Monday after the first halt delayed the open, those with names starting from N to R took longer, according to the exchange's Twitter feed. ASX was forced to suspend the market again less than three hours later, before closing it for the rest of the day.
ASX's shares, which declined 1.3 percent during Monday's curtailed trading, fell 0.2 percent as of 10:25 a.m. in Sydney on Tuesday, while the nation's benchmark equity gauge, the S&P/ASX 200 Index, declined 0.1 percent. ASX shares were up 14 percent this year prior to Monday, compared with a 19 percent increase in a Bloomberg Intelligence gauge of security and commodity exchanges.
"It's a bit of a black mark for the reputation," James Woods, an analyst at Rivkin Securities in Sydney, said by phone. Traders would have normally been adjusting positions on Monday to prepare for the BOJ and Fed meetings, he said.
Analyst Ratings
Deutsche Bank AG analysts rated ASX neutral in a Sept. 5 report, citing risks of lower equity market trading and reduced capital raising activity. The stock's recommendation consensus of 2.1 out of 5, where five equates to a unanimous buy call, is the lowest in the Bloomberg Intelligence Global Security & Commodity Exchanges Valuation Peers of 28 companies.
Stevens was appointed last month after a four-month search to replace Elmer Funke Kupper, who stepped down in March as police investigated activities in Cambodia of Tabcorp Holdings Ltd., the Australian betting company that he formerly led.
ASX, which is in the process of revamping its futures and cash equity trading platforms, has pushed resources into its derivatives business in recent years that is now the firm's biggest component. Cash markets, which accounted for more than 30 percent of ASX's revenue five years ago, are now less than one-fifth.
Trading Glitches
Technical issues have occasionally curtailed trading on exchanges around the globe.
In Singapore, a malfunction halted share trading in July, prompting the head of the exchange operator to apologize and attracting a rebuke from the city-state's central bank. Malfunctions at Deutsche Boerse AG, Europe's biggest derivatives exchange, disrupted trading in February and July 2015, while the New York Stock Exchange had an outage last year that lasted 3 1/2 hours.
In 2014, Chi-X Australia Pty, which operates a competing stock-trading system, halted its stock trading platform for the remainder of a session to fix a technical issue. Chi-X had to delay its usual open due to the ASX problem, Chief Executive Officer John Fildes said Monday.
ASX has its own history of glitches. Trading was halted for almost four hours by a technical disruption just before the open on October 2011. More recently, a problem on the bourse's derivatives platform halted trading in September last year. In October 2014, equity and bond futures trading on the country's main exchange was halted for about two hours after a technical fault prevented the updating of prices for some users.
"The measure of the greatness of the organization is how quickly they pick themselves up, fix things up, try and identify what caused the problems so it doesn't happen again," Andrew Green, the Sydney-based chief executive officer of the Stockbrokers Association of Australia, said by phone.
— With assistance by Andrea Tan, and Lisa Pham
Before it's here, it's on the Bloomberg Terminal.
LEARN MORE