business
World Bank Warns of Financial Crisis Level Cost From Superbugs
By
Drug resistant infections would hit low-income economies

Worst scenario could cut 3.8% from annual global GDP by 2050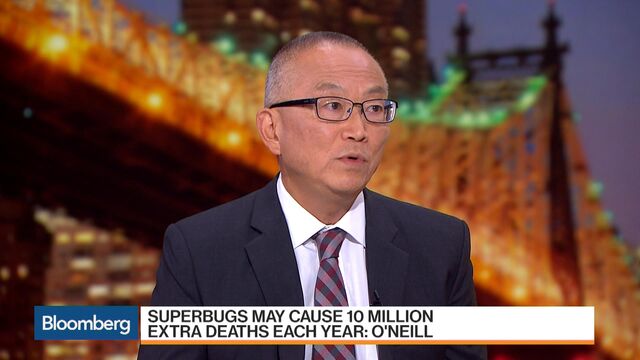 The spread of drug-resistant infections could mean a hit to the global economy even greater than that of the 2008 financial crisis as the emergence of so-called superbugs threatens growth in low-income countries, according to a new World Bank report.
A worst-case scenario would cut 3.8 percent from the world's annual economic output by 2050 if many of the microorganisms that cause infection globally develop resistance to doctors' current arsenal of antibiotics, according to the report. In that scenario, 28.3 million people would be thrown into extreme poverty as low-income economies come under pressure, the report said.
"The scale and nature of this economic threat could wipe out hard-fought development gains and take us away from our goals of ending extreme poverty," Jim Yong Kim, president of the World Bank Group, said in a press release. "The cost of inaction is unaffordable —- especially for the poorest countries. We must urgently change course to avert this potential crisis."
The report comes after the U.K.'s Review on Antimicrobial Resistance, chaired by former Goldman Sachs Group Inc. economist and parliamentarian Jim O'Neill. Where O'Neill focused on stimulating the development of new antibiotics over the next 10 years, the World Bank focuses on containing the threat by preventing the spread of superbugs when they appear, stopping infection in the first place, and regulating the use of antibiotics to prevent new superbugs developing.
Building these measures into the existing health-care systems of low- and middle- income countries will require about $9 billion more spending annually, according to the report. By 2050 the World Bank estimates that could save the world as much as $27 trillion in losses inflicted by the spread of superbugs, from international trade disruptions in the wake of disease outbreak, livestock lost to sickness and increased health-care costs.
"Rising drug resistance is a looming threat to our prosperity and sustained economic development in all parts of the world," the U.K.'s O'Neill said in a statement about the World Bank report.