Why 'Quantitative Tightening' May Again Become a Problem for Markets
This week's about the Fed, BoJ...and maybe, the PBOC.
by and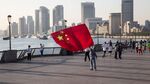 In August 2015, George Saravelos thought he had put his finger on one acute source of the financial stress that followed China's depreciation of the yuan.
China's sales of reserve assets to prop up its currency, he said, amounted to "quantitative tightening" — the exact opposite of the money-supply policies central bankers use to try to reflate asset prices in the wake of the financial crisis. Chinese sales of primarily U.S. dollar assets were draining global liquidity and dampening global risk appetite, according to the Deutsche Bank AG strategist, thereby contributing to the selloff in stocks and bonds.  
Fast-forward to September 2016: at the start of a week of major central bank announcements that may force Beijing to take further action to defend its currency, the specter of Chinese quantitative tightening looms once again.
After two years of decline China's foreign exchange reserves have stabilized in recent months, which suggests that this dynamic has not been dominant driver of price action. However, there are signs — notably the jump in the offshore yuan interbank rate — that Beijing has taken to strong-arming bears who seek to bet against its currency.
The spike in the interbank rate "follows a number of similar moves in the last week or so, with speculation mounting that the PBOC [People's Bank of China] has been intervening to make it more expensive to short the yuan," writes Deutsche Bank Global Head of Credit Strategy Jim Reid.
Shyam Rajan, head of U.S. rates strategy at Bank of America Merrill Lynch, cited the return of quantitative tightening at other major central banks as one of three reasons why U.S. real interest rates were likely to rise going forward. 
"Behind the scenes, custody holdings of U.S. Treasuries have quietly declined nearly $50 billion since late June," he wrote in a September 15 note. "While the exact source of reserve sales is not clear, the yuan's cheapening post Brexit, its stickiness around the 6.70 [per dollar] level and the pickup in custody decline could be an indication Chinese sales of U.S. Treasuries have resumed."
China's holdings of U.S. government debt fell to their lowest level in more than three years in July, according to Treasury International Capital (TIC) transactions data released last week — confirming Rajan's suspicions. Saudi Arabia, another source of reserve divestitures, saw its hoard of Treasuries decline for the sixth consecutive month. The unwinding of the commodity super-cycle has crimped foreign-exchange holdings in the Kingdom, with its stockpile declining from a peak of $737 billion in August 2014 to $555 billion, as of July, according to Bloomberg data.
China's foreign exchange reserves have fallen from $4 trillion in June 2014 to $3.2 trillion, as of August the lowest level since December 2011, as the central bank stepped into support the yuan.

"It's hard to use TIC data to give an up to date view – the data we got was for the month of July – which showed continued selling out of China," cautioned Rajan in an email. "We have to wait for the August data when custody holdings showed a notable drop in foreign reserve holdings at the New York Fed."
Martin Enlund, chief currency strategist at Nordea Markets, believes a policy course charted by the Bank of Japan and the Federal Reserve that causes the Japanese yen to weaken relative to the greenback this week could cause China to re-evaluate its policy of managed depreciation.
"Not only would China face a stronger currency due to a weaker [Japanese yen], if the Fed eventually turns hawkish-enough, its policy would impact negatively on commodity and emerging market currencies," he wrote. "If the PBOC instead allows or seeks further yuan weakness, not only would USD/CNY need to climb, it would also risk making the Fed's rate hike ambitions more difficult once more, while risking negative spill-overs over to risk sentiment and to Asia FX in general."
In other words, old wounds from the ripple effects of Chinese currency policy —  which only began to be stitched a year ago — may be poised to burst open again over the next few days.

A drawdown of Chinese foreign-exchange reserves doesn't necessarily drain global liquidity — as the central bank has expanded domestic liquidity through open-market operations — while the planned expansion of the balance sheets of the Bank of England, European Central Bank and Bank of Japan (BOJ) in the coming months could lend support to asset prices, as private investors continue to be compelled to seek riskier assets in the pursuit of yield.
But, with volatility staging an uptick, fears growing over stretched valuations in developed-market stocks and bonds, and signs that the BOJ's reflation strategy might be struggling, fears over a quantitative tightening in China might gain more market attention.
Before it's here, it's on the Bloomberg Terminal.
LEARN MORE