What Do We Need to Give the Fed's Hawks More Room to Fly?
And the doves get ready to overshoot on inflation.
By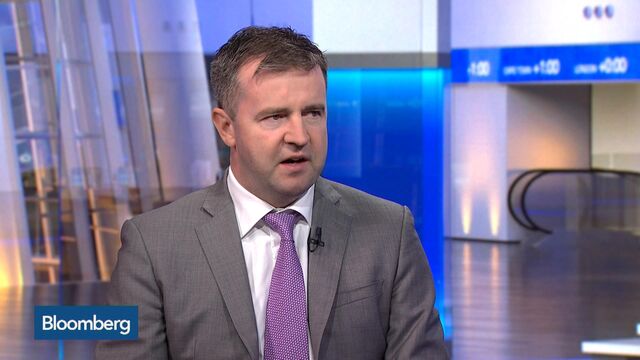 The author is the professor of practice and senior director of the Oregon Economic Forum at the University of Oregon and the author of Tim Duy's Fed Watch.
The doves at the Federal Reserve will rule the roost again this week. But the hawks grow increasingly restless and their concerns will look more valid, assuming the economy gains further ground in the final months of the year. December remains on the table at this point – which, if it happens, would correspond to a pace of one 25 basis-point rate hike a year. Welcome to the new normal.
Back at Jackson Hole in August, market participants thought they were picking up signals of an imminent rate hike.
Federal Reserve Chair Janet Yellen said:
"In light of the continued solid performance of the labor market and our outlook for economic activity and inflation, I believe the case for an increase in the federal funds rate has strengthened in recent months."
This in itself was fairly innocuous and consistent with the fact that the jobs numbers had rebounded from their dismal May readings. But Federal Reserve Vice Chair Stanley Fischer followed up on Yellen's comments, saying they were consistent with two rates hikes this year. That put market participants on alert for September, although in all fairness to Fischer, he heavily tempered his remarks with the Fed's standard "data dependent" rhetoric. 
Fischer's comments did, however, seem in line with a growing consensus among regional Federal Reserve presidents that the time for a rate hike is approaching. For instance, San Francisco Federal Reserve President John Williams said on Aug. 18:
"In the context of a strong domestic economy with good momentum, it makes sense to get back to a pace of gradual rate increases, preferably sooner rather than later."
Richmond Federal Reserve President Jeffrey Lacker on Sept. 2:
"Thus, even taking into account our estimates of the potential decline in the natural real interest rate, it appears that the funds rate should be significantly higher than it is now."
Cleveland Federal Reserve President Loretta Mester on Sept. 1:
"Policy has to be forward-looking... If you have a forecast and inflation is moving up to your target and you're at full employment, then it seems like a gradual increase from a very low interest rate is pretty compelling to me. Pre-emptiveness is important."
Even Boston Federal Reserve President Eric Rosengren, who had previously been considered a dove, recently shifted his tone, issuing these comments on Sept. 9:
"So if we want to ensure that we remain at full employment, gradual tightening is likely to be appropriate. A failure to continue on the path of gradual removal of accommodation could shorten, rather than lengthen, the duration of this recovery."
I think you can sum up the position of Fed hawks in a single word: preemptive.
Hawks see the economy as operating near full employment:

They expect that at the current pace of job growth, the economy will soon push past full employment. After that, bad things will happen. Inflation will accelerate past the Fed's 2 percent target. Asset prices may become bubbly, or bubblier still. Leverage within the financial sector will grow as the quality of credit deteriorates. Moreover, above-target inflation could have a deleterious impact on the wider economy. New York Federal Reserve Chair William Dudley last January provided the basis for the argument now gaining ground among Fed hawks:
"A particular risk of late and fast is that the unemployment rate could significantly undershoot the level consistent with price stability. If this occurred, then inflation would likely rise above our objective. At that point, history shows it is very difficult to push the unemployment rate back up just a little bit in order to contain inflation pressures. Looking at the post-war period, whenever the unemployment rate has increased by more than 0.3 to 0.4 percentage points, the economy has always ended up in a full-blown recession with the unemployment rate rising by at least 1.9 percentage points."
This view believes that the only way to sustain the recovery is to act preemptively, because an economy running above full employment entails an eventual risk of a recession. In other words, hawks do not believe that monetary policy makers have the ability to gradually slow the economy at that point.
Despite such arguments, the doves continue to maintain a strong position. Federal Reserve Governor Daniel Tarullo laid down an opening salvo in an interview on Sept. 9 saying that "we're not running a hot economy" and "no one knows where full employment is," as well as saying he wants to see "more tangible evidence of inflation." He also identified the flattening unemployment rate as a sign that there's still significant slack in the economy, and said he remains concerned with the asymmetry of Fed policy tools at the moment; there is more room to fight inflation than to fight a recession.
Tarullo's message was clear: September is too early to hike hikes.
Tarullo's colleague Federal Reserve Governor Lael Brainard followed up with a Sept. 12 speech that laid down her position as:
The Phillips curve is very flat, inflation remains persistently below target, and inflation expectations appear to be softening. Taken together, these conditions suggest that any future inflation gains are likely to be gradual, and hence the argument for preemptive rates hikes is not strong.
The sideways movement in the unemployment rate suggests substantial labor-market slack remains, while measures of underemployment remain high. Moreover, wage growth still remains tepid. Preemptive rate hikes in the absence of inflationary pressures thus risk further improvement in the labor market.
Global weakness remains a risk for the U.S. economy. This weakness is already being transmitted to the economy via a stronger dollar, mitigating the need for preemptive rate hikes.
The neutral interest rate is low and is likely to remain low.
The policy options are asymmetric. The lack of conventional policy tools means policymakers need to be more concerned with downside risks.
Taken together, Tarullo and Brainard are likely to argue forcefully at this week's meeting that September is not the time for a preemptive rate hike. They will not quietly roll over to support another preemptive rate hike like last December. And they will win the day on the back of this argument; their colleagues on the Board will agree to stay pat, as will most of the presidents. But not all. Kansas City Federal Reserve President Esther George will certainly dissent, and Rosengren might join her this time.
All that said, hawks ought to gain more ground with centrists on account of the fairly limited additional improvements in the economic environment. What will we need to see to give the hawks more room to fly? Sustained job growth with a drop in unemployment and renewed improvement in underemployment, for one. Stronger evidence that inflation is sustainably rising toward target. And more evidence that growth is rebounding in the second half of this year: the softness of recent industrial production and retail sales numbers highlight the uncertain nature of the expected rebound. These elements could all come together by December. They will likely have a serious discussion about a rate hike this week, and a more serious discussion in December. Yellen will likely foreshadow that discussion in her press conference by reiterating her Jackson Hole position that the case for a rate hike is building.
An important takeaway is this: The longer the doves can hold their ground against calls for preemptive tightening, the more likely it is that the inflation rate will ultimately overshoot the Fed's target. In order to sustain the recovery, the Fed will need to tolerate modest overshooting despite claims they intend only to hit target. Oddly though, such overshooting will probably not place the doves on the defensive. Under those circumstances the hawks will still be on defensive. After all, they themselves made the argument they can't tighten aggressively without triggering inflation recession. Sustaining economic expansion at that point would thus require a more reserved policy response than hawks are currently suggesting would occur in the face of overshooting – unless, of course, they want to push the economy into recession.
Bottom Line: September is not going to happen. Hawks can push for a 'serious discussion' about the merits of raising rates, but ultimately the doves will remain victorious. Hawks already know the outcome of this meeting; it is highly unlikely the Fed would hike with markets pricing in what Bloomberg data show to be a 20 percent chance of a rate increase. There is no pressing reason to shock markets like that. Hawks will need to wait until December for their next opportunity to raise rates. The longer the doves can hold the line against preemptive rate hikes, the higher the probability that the Fed will eventually be faced with responding to an overshoot of the inflation target. The length of the expansion will likely hinge on the reaction to any such overshoot.