business
Wells Fargo Risk Officer Takes Leave on Eve of Senate Hearing
By and
Claudia Russ Anderson began unpaid leave Monday, lender says

Anderson was replaced in August by Albrecht, spokeswoman says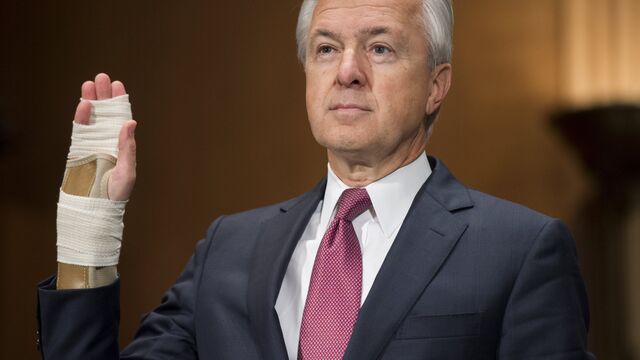 Wells Fargo & Co., facing calls to hold senior managers accountable for a scandal over unauthorized customer accounts, said a top risk manager has taken a leave of absence on the eve of Chief Executive Officer John Stumpf's testimony before the Senate Banking Committee.
Claudia Russ Anderson began a six-month unpaid leave on Monday, becoming at least the second senior Wells Fargo executive to depart the community banking division since July. Anderson, 58, was head of risk for the unit, which houses the retail business, and was succeeded in August by Vic Albrecht, 57, Richele Messick, a bank spokeswoman, said in a phone interview.
Messick declined to comment on whether Anderson's leave, announced internally in June, was tied to the investigations by U.S. and Los Angeles authorities. In July, the San Francisco-based bank said Carrie Tolstedt, 56, the head of the unit and Anderson's boss, was retiring.
"Claudia decided to take a personal leave of absence for personal reasons," Messick said. Anderson didn't reply to phone and e-mail messages seeking comment.
Pressure Building
Pressure has been mounting on Wells Fargo and Stumpf since federal authorities accused the bank on Sept. 8 of creating more than 2 million deposit and credit-card accounts without customers' authorization. Analysts have called for the bank to claw back Tolstedt's compensation, elected officials have demanded Stumpf appear in Washington and some have questioned whether he should keep his job.
Stumpf, 63, has placed much of the responsibility on junior employees such as bank tellers. The lender said it fired the 5,300 workers over five years, with about 10 percent of them managers.
Stumpf will appear Tuesday before the Senate panel to testify about the company's sales practices. He'll try to quiet the storm and halt the decline in the company's stock, which has tumbled about 7.5 percent since Sept. 7 and stripped the lender of its distinction as the world's most valuable bank.
The House Financial Services Committee said Friday it's also going to investigate the scandal engulfing Wells Fargo, including interviewing Tolstedt.
Reporting Changes
The bank has made several changes, mostly in reporting lines. While Anderson reported directly to Tolstedt with only a loose responsibility to Mike Loughlin, the firm's chief risk officer, Albrecht will report jointly to Tolstedt's replacement, Mary Mack, and Loughlin. Albrecht will be based in Charlotte, North Carolina, one of its largest hubs, while Anderson worked in Minneapolis. Wells Fargo also said it would eliminate sales goals for retail bankers, effective Jan. 1, and instructed U.S. call center workers to temporarily halt cross-selling of financial products.
Wells Fargo told employees on June 7 that Anderson would begin leave starting in August, but the timing of her vacation pushed the effective date to Monday, Messick said. If she decides to return to the bank, she'll need to apply for a new position, Messick said.
Before it's here, it's on the Bloomberg Terminal.
LEARN MORE