U.S. ELECTION WRAP: Trump Gains Dim Democratic Senate Chances
Trump's recent gains in key swing states may make it more difficult for Democrats to take control of the GOP-led Senate.
By and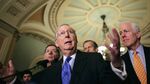 As the presidential election between Hillary Clinton and Donald Trump tightens, so too has the race for control of the U.S. Senate.
"Simultaneously, and related, the Democratic position in the fierce battle to control the U.S. Senate has deteriorated," Larry Sabato, Kyle Kondik, and Geoffrey Skelley of the University of Virginia's Center for Politics wrote in an analysis today

While Republicans are the defending party in 24 of the 34 Senate elections, including seven in states that voted for President Barack Obama in 2012, a closer Clinton-Trump race means Democrats face tougher task of reaching net gain of 4-5 seats needed to overturn GOP's 54-46 majority

"Democrats had counted on a big Clinton victory to lift them to at least 50 Senate seats, if not an outright majority," according to the Center for Politics analysis. If Clinton "regains her mojo and revs up the Democratic base to a greater degree, Democrats might still be able to capture the Senate — which will be critical to Clinton's ability to get Supreme Court and other nominees confirmed, for instance, should she be elected"

The Clinton-Trump contest matters for the Senate because states increasingly are voting for the same party for president and for Congress: in the current 114th Congress, 84 senators are of the same political party that carried their state in the most recent presidential election, up from 61 in 1999 and 43 in 1987

Center for Politics upgraded Republican chances in Ind., N.H., and Pa., which previously leaned Democratic but are now tossups along with Nev.; Republicans now favored to hold 49 seats compared with 47 for Democrats

ON THE TRAIL
As at least four incidents in 36 hours have once again thrust terrorism into the national spotlight, Clinton and Trump delivered starkly different prescriptions for battling the threat

In wake of the explosion of a homemade bomb that injured 29 people in NYC Saturday night and the discovery of similar devices in the area, Clinton argued that Trump's rhetoric has been a recruitment tool for extremist groups such as Islamic State
The GOP nominee said political correctness is inhibiting police officers who are afraid to be more aggressive for fear they will be accused of profiling if they single out Muslims; Clinton called building up trust between law enforcement and the American Muslim community
Trump: "This weekend's attacks, from Minnesota to Manhattan, are just the latest to be carried out on U.S. soil under President Obama," Trump says in statement, adding they "should be a wake-up call for every American"; the GOP nominee speaks this afternoon in Florida 
See full story by Bloomberg's Jennifer Epstein and Jennifer Jacobs here

As the NYC bombing stokes the ongoing debate over immigration, a new OECD report confirms that migration to rich nations hit a record level last year amid the Syrian refugee crisis; see full story by Bloomberg's Andre Tartar

CLINTON'S MILLENNIAL CHALLENGE
While Clinton still leads Trump among millennials in polls, many are flirting with supporting Libertarian candidate Gary Johnson or Green Party nominee Jill Stein, Bloomberg's Sahil Kapur and Jennifer Epstein wrote

In a Quinnipiac poll last week, Clinton garnered support from 55% among voters 18 to 34 in a two-way contest with Trump; when Johnson and Stein were included, it dropped to 31%, with 29% supporting the Libertarian and 15% backing Stein
President Barack Obama won 60% of voters under 30 in 2012, and 66% of the same bloc in 2008; Clinton is counting on replicating much of Obama's voting coalition to win in 2016
Earlier today at Temple University in Philadelphia, Clinton tried to confront her trust deficit with younger voters by acknowledging that many of them have doubts about her
The Democratic nominee said she realizes some millennials have "questions" about her even if they oppose Trump
"I get that and I want to do my best to answer those questions," she said. "Give us both a fair hearing. Hold us accountable for our ideas. Both of us"
Meanwhile, Sen. Bernie Sanders, Clinton's former competitor for the Democratic nomination, has started to take on the role of "millennial-whisperer," Washington Post's David Weigel wrote
Sanders, who spent much of the summer completing a book set to be released after the election, has warned young voters that this is "not the year for a protest vote"

POLLS
Trump's 3-point lead over Clinton in Georgia is within the margin of error, a new Monmouth University poll found

Trump gets 45% support among likely voters in the Peach State while Clinton draws 42%; Libertarian Gary Johnson garners 8% support; 5% undecided
Still, in spite of the close race, it looks unlikely that Clinton can turn Georgia "blue" for the first time since 1992, according to Monmouth polling director Patrick Murray
"Clinton is not quite making the needed inroads among young white voters to take the lead here," he said in a statement

The two top presidential contenders are in virtual tie in Florida, with Clinton at 41% and Trump at 40% in a four-way race, according to New York Times Upshot/Siena College poll

Trump leads among white voters 51% to 30%; Clinton has the edge among Hispanic voters 61% to 21% and among black voters 82% to 4%

ETC
The Metropolitan Opera will open its season Sept. 26, the same night as the first U.S. presidential debate, forcing a difficult choice on its patrons: Tristan und Isolde or Donald and Hillary?

Read full story by Bloomberg's Amanda Gordon here

The Clinton Global Initiative opened today for its 12th and final annual meeting, and it will be a little less global, lighter on initiative and absent one Clinton, Bloomberg's Margaret Talev and Bill Allison wrote; read story here
Bill Clinton told NPR it's difficult to think about leaving his foundation

"It's hard, but, you know, if Hillary is elected, I'm looking forward to it," the former president said
"I've had this job longer than I ever had any job, and I've loved it": Clinton

Ford Motor is pushing back against criticism by Trump for moving work to Mexico by highlighting its booming business in big trucks after shifting production to an Ohio factory from south of the border; read story by Bloomberg's Keith Naughton here
Forrest Lucas, CEO of Lucas Oil, is being considered for the post of Interior Dept secretary in a Trump presidency, according to Politico, citing two unidentified people familiar with matter

CONGRESSIONAL ELECTIONS
SENATE RACES (Republicans hold 54-46 majority)
GA: Republican Sen. Johnny Isakson led Democratic businessman Jim Barksdale 50%-34% in Monmouth University poll conducted Sept. 15-18 of 401 likely voters
IL: Republican Sen. Mark Kirk's campaign released TV ad featuring two women who filed workplace retaliation lawsuit against Democrat Tammy Duckworth stemming from her time leading Illinois Department of Veterans' Affairs

Narrator says that Duckworth, an Army veteran of the Iraq War, "is a war hero, but she's been a terrible public servant"

MO: Republican Sen. Roy Blunt's campaign released TV ad defending his record on veterans, attacking Democratic Secretary of State Jason Kander on Obamacare and illegal immigration, and linking him to Clinton
NH: Republican Sen. Kelly Ayotte "won't give a clear answer" on Trump's preparedness to serve as president, the Associated Press reported

Asked about Trump, Ayotte said she's been "disappointed" with Obama's foreign policy and that "whoever's elected president, we're going to trust them with all the responsibilities of commander in chief, absolutely"
Ayotte opposed by Democratic Gov. Maggie Hassan

NV: Democrat Catherine Cortez Masto's campaign released TV ad defending her record to curb sexual assault, says Republican Rep. Joe Heck voted against funding for rape kits and is "part of the problem in Washington"

Ad refers to Heck's May 2014 procedural vote against a Democratic "motion to recommit" a Republican-written appropriations bill back to committee with instructions

Heck's campaign released TV ad saying he spent 460 days on military duty, including a tour in Iraq "saving the lives of American heroes"

Cortez Masto and Heck are seeking seat of Senate Democratic Leader Harry Reid, who's not running for re-election
HOUSE RACES (Republicans hold 246-186 majority)
FUNDRAISING: Democratic Congressional Campaign Cmte had >$63m in cash-on-hand after raising ~$11m in Aug., according to release
FL-13: Republican Rep. David Jolly and Democrat Charlie Crist will debate Monday in St. Petersburg

Debate between Jolly, who's seeking a second full term, and Crist, who was the state's GOP governor before switching parties, will air at 7 p.m. eastern time on CBS's Tampa Bay affiliate

MN-08: Democratic Rep. Rick Nolan and Republican businessman Stewart Mills debated today in Duluth

Race in northeastern district is rematch of 2014 contest Nolan won 49%-47%

NY-19: Republican John Faso's campaign released TV ad highlighting praise from retiring Republican Rep. Chris Gibson, who says Faso is a friend and neighbor who "gets results for taxpayers"

Faso challenged by Democrat Zephyr Teachout, a law professor and anti-corruption activist, in competitive district that includes part of the Hudson Valley

TX-23: National Republican Congressional Cmte in TV ad described Democratic ex-Rep. Pete Gallego as a "consummate political insider" who spent 20 years in state legislature and then lobbied after losing 2014 re-election bid

Gallego seeking to unseat Republican Rep. Will Hurd, who won their first race 50%-48% in competitive district stretching from San Antonio to El Paso
Before it's here, it's on the Bloomberg Terminal.
LEARN MORE