U.K.'s Fox Pledges 'Minimal Disruption' for EU During Brexit
By
Trade secretary speaking to business audience in Dubai

Fox praises U.K. workforce, labor relations, low taxation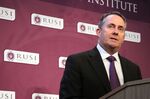 Trade Secretary Liam Fox said Britain will seek to cause "minimal disruption" to its neighbors in the European Union as it leaves the bloc following the June referendum on membership.
It is in the U.K.'s interest that the EU succeeds, Fox told an audience of business leaders in Dubai on Monday as he made the case for increased trade and investment after Brexit.
"As we leave, we intend to do so in a way that ensures minimal disruption for our European partners with whom we will continue to have strong economic, political and security bonds," Fox said, according to a transcript released by his office. "We want the EU to succeed –- we just don't want to be governed by it."
Fox highlighted the long term trade links between Britain and the Gulf, saying that the United Arab Emirates is Britain's fourth largest market outside Europe and home to 100,000 U.K. nationals. Outside the EU, trade should boom, he said.
"We have a skilled workforce, low levels of industrial disruption, a low-taxation and low-regulation economy," Fox told his audience at the Capital Club. "We are both proud trading nations, and as the U.K. embarks on its new journey outside the European Union, we have a wonderful opportunity to cement our trading future in a way that brings prosperity to all our citizens."
Before it's here, it's on the Bloomberg Terminal.
LEARN MORE