business
Turkey's Army Drives Deeper Into Syria as Latest Truce Frays
By
Erdogan directs troops toward ISIS bastion 30 km from border

Clashes also loom with Kurds; Russia remains long-term rival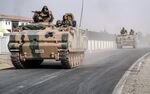 Behind their dirt embankments on the frontier with Syria, Turkish soldiers take refuge from the scorching sun in the shade of pine trees. A pile of shells sits beside them on the road, ready for action.
The border they're defending is effectively less of a border than it used to be, and the action is further away. That's because Turkey's army, since it crossed into Syria late last month to fight Islamic State and Kurdish militias, has driven the front line deep into the neighboring state. It now controls a 900 square-kilometer (350 square-mile) area inside Syria. And that's just the start, judging by President Recep Tayyip Erdogan's comments on Monday.
The Turkish leader outlined plans for a "safe zone" in Syria the size of the Grand Canyon, where rebels can be sheltered and trained, and refugees resettled. It could be the biggest military intervention in Turkey's recent history, with all the attendant risks: casualties in the short term, and in the longer run an open-ended engagement in a conflict zone where actual and potential enemies abound.
Erdogan's vision would "require deployment of thousands of Turkish soldiers in Syria for several years," said Nihat Ali Ozcan, an analyst at the Economic Policy Research Foundation in Ankara.
Getting Riskier
So far, Turkey's economy has avoided major impact from the Syrian war, though the cost of hosting about 3 million refugees has strained the budget. And while Turkey has been subjected to several attacks by jihadists with connections to Syria, Erdogan -- whose popularity surged after he survived a coup attempt in July -- hasn't paid any domestic political price as he thrust his country deeper into its neighbor's civil war.
But his course is about to get riskier, as a glance at some of the towns that lie in the path of Turkey's advancing army shows. Erdogan said the campaign, named Operation Euphrates Shield, will extend to the Islamic State stronghold of Al-Bab, about 30 kilometers from the border.

That's not far from Aleppo, currently the epicenter of the civil war: President Bashar al-Assad and his Russian allies are seeking to regain control of what was once Syria's biggest city from rebels that Turkey has supported. Also nearby is Manbij, now held by Syrian Kurds who are viewed as allies by the U.S., but as terrorists by Erdogan. In either place, Turkey's soldiers may confront the kind of resistance they have so far avoided.
"The Turkish military has yet to fight a serious large-scale battle," Faysal Itani, an analyst with the Atlantic Council in Washington, said by e-mail. "That will change."
Hopes are dwindling that this month's cease-fire in Syria, backed by the U.S. and Russia, will mark the beginning of the end for the 5 1/2-year conflict. Syria's government said Monday that the truce is effectively over.
Islamic State, whose power base lies in Raqqa to the east of Turkish positions, was excluded from the cease-fire, along with al-Qaeda affiliates engaged in the battle for Aleppo. Erdogan has signaled that he's ready to send his army as far as Raqqa to help a U.S.-led effort to finish off the self-proclaimed caliphate.
'Reach the Mediterranean'
Turkey's goals in Syria don't entirely overlap with those of the U.S., though, as seen in their different attitudes toward Kurdish fighters. Erdogan suspects them of seeking autonomy in regions of Syria that border Turkey's own restive Kurdish population, which has similar aspirations. Rolling back Kurdish gains may be as important for Turkey as defeating Islamic State.
Erdogan on Monday criticized Syrian Kurdish fighters for not retreating from Manbij after taking it from Islamic State, and signaled that Turkey might force them to withdraw. He accused the Kurds of planning to carve out a statelet, made up of bits of Turkey, Syria and Iraq, that would "reach the Mediterranean."
Meanwhile Turkey's support for the rebellion against Assad has strained ties with Russia, especially after Turkish jets shot down a Russian plane last year. Seeking to patch things up with Russian President Vladimir Putin, Turkey stopped insisting that Assad must go immediately.
With no long-term solution in sight for Syria, the deepening Turkish engagement means future clashes with pro-Assad powers such as Russia and Iran remains a risk.
'Hornet's Nest'
Still, for now "the real danger is resistance from ISIS" and the Kurdish fighters, Itani said. He said that Russia was probably made aware of Turkey's operation before it began, and that Erdogan could achieve his goals in Syria if he's willing to commit the resources and suffer the likely losses.
So far, losses have been minor. Six Turkish soldiers have died during the monthlong operation, including two who perished Tuesday in an explosion just inside Syria as they erected a security wall, the Dogan news agency reported. There's no sign of major public opposition in Turkey.
Huseyin Sahin, a Turkish villager who lives just 500 meters (1640 feet) from the border, said he strongly supports the incursion. Two of his relatives were beheaded by Islamic State in the Syrian town of Jarablus, the first to be captured by the Turks last month.
"We really need a safe zone there for a peaceful sleep," said Sahin, sitting on a mattress in his one-story house next to a military watchtower. "Otherwise, the jihadists may come back."
Farmer Fahri Tabur, sipping tea outside his house nearby, was more circumspect. "I fear our army may suffer serious casualties in the assault on al-Bab and especially if it moves toward Raqqa," he said. "We've really stirred up the hornet's nest."
(
Updates with killing of 2 Turkish soldiers in Syria in 16th paragraph.
)
Before it's here, it's on the Bloomberg Terminal.
LEARN MORE