Trump's 'Americanism' Starts to Look Very Familiar to Ryan
By
Republican presidential campaign is using House GOP accounting

House speaker has supported Trump as a means to enact agenda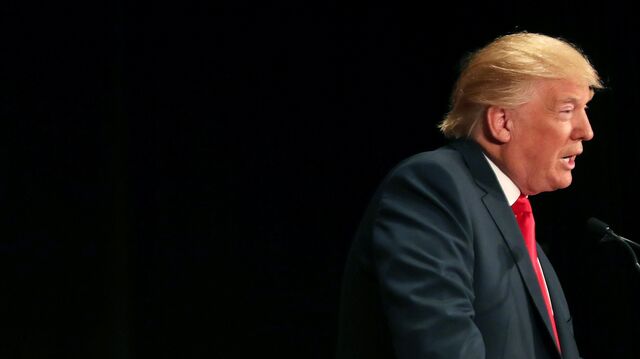 The Economic Club of New York is a place for serious people. Janet Yellen addressed the club in March. Antonin Scalia spoke there in February, five days before his death. When House Speaker Paul Ryan stepped onto the stage Monday, he was in his natural habitat.
Last Thursday, it was Donald Trump's turn at the podium. He used it to address an issue that has vexed every other man and woman who's ever run for president: What creates economic growth, and how do you pay for it? Ryan, who's spent time pondering that question too, likely found plenty to agree with in Trump's answer.
Trump called his philosophy "Americanism." It's more than just his well-documented opposition to bad trade deals. Every policy, he said, must be measured against a single criterion: whether it creates more jobs and better wages in the U.S.
In practice, it's starting to look like the budget resolutions that Ryan has been refining since the beginning of the Obama administration. Ryan made his June endorsement of Trump conditional on turning those resolutions into law. Now the candidate, a master of telling audiences what he thinks they want to hear, appears to be signaling he'll keep his end of the bargain.
And Ryan, who acknowledged the presence of Ivanka Trump, the candidate's daughter, in the audience Monday, hinted at the confluence.
"Look, this presidential race is getting very tight," he said in his speech. "I think we have a real opportunity here to win a mandate for a unified Republican governance."
Ryan drew a much larger crowd of high-powered attendees sitting alongside him on the dais at the Economic Club than Trump did. He took questions from high-profile economists, Glenn Hubbard and Peter Orszag, among others, while Trump largely was questioned by a member of his own economic team.
Ryan's message was largely a recitation of the plans that House Republicans have laid out over the past several months.
"Outdated policies are holding people back and our whole economy is suffering as a result of this," he said. To create more good-paying jobs, he added, "we need to fix our tax code."
Lower taxes are one of the pillars of Trump's Americanism, along with the removal of regulations and the unleashing of the "vast treasure of American energy." Trump said they'd deliver growth of 3.5 percent a year, a level that's become rare for the U.S. economy: It was reached in 2004, from 1996-2001, and from 1983-89. (Trump suggested a national goal of 4 percent. He'd prefer higher, he said, but his economists wouldn't let him.)
Paying for It
In the short run, economic growth is easy. A country just has to spend money, either by lowering taxes or writing checks. The hard part is figuring out how to pay for it. And it's in paying for growth that the House Republicans' and campaign visions most closely align.
In New York, Trump conceded that the Americanism/House Republican tax brackets of 12, 25 and 33 percent would cost $4.4 trillion. Not to worry. His plan would be deficit-neutral, using three methods championed by House Republicans: "dynamic scoring" for tax cuts; cost-benefit analysis for regulations; and promises of future cuts to discretionary spending.
That first method is contentious among budgeteers. Since 2013, Republicans have argued that fiscal legislation should be judged dynamically. That is, budget scores should capture a feedback loop, the way that growth increases tax receipts, which make up for some lost revenue.
Estimates for this effect, however, vary wildly with political philosophy. Last year the House and Senate majorities directed Congress's two nonpartisan tax referees, the Joint Committee on Taxation and the Congressional Budget Office, to apply this methodology to tax bills, but not spending bills. Even so, House Republicans prefers the estimates from the Tax Foundation, a conservative think tank. So does Trump.
"We're proposing a $4.4 trillion tax cut that will score as a $2.6 trillion under dynamic growth models," said Trump in New York last week, "which is how taxes should be scored." Some applause at this, at the Economic Club. So $1.8 trillion of growth-producing tax cuts: paid for, at least on paper.
Cutting Regulations
The Trump campaign also asserts that stripping back regulation will deliver another $1.8 trillion in new tax receipts. "Agencies will be required to list all their regulations and rank them in terms of their contribution to growth, health and safety," its fact sheet reads. This isn't a new idea. It resembles the cost-benefit analysis of regulation that's been kicking around Washington since the Reagan years.
As with dynamic scoring, cost-benefit analysis gives analysts wide latitude in deciding what costs to include. The Obama administration has been using it to measure the cost of carbon. House Republicans have been requesting that the Federal Reserve and the Securities Exchange Commission deploy it to justify lifting financial regulations.
Cost-benefit analysis sounds like very serious economics, but in Washington it's often a way to examine only the best-sounding consequences of a policy. The Trump campaign applied it to energy regulation, and came up with $1.8 trillion.
"That leaves around $800 billion," said Trump. Again, not to worry. He found the cash with an approach directly lifted from House budget resolutions: a promise of future cuts to discretionary spending. The House lays out levels of spending, and rules that direct future congresses to make spending cuts to reach them. But it has been chary with details on what gets cut.
This year's budget resolution, for example, instructs 12 committees to submit plans within 90 days to lower spending. In the first year, they would have to cut only $1 billion. Through 2026, however, cuts would total $690 billion, including $157 billion in 2026 alone. In New York, Trump laid out what his campaign calls the "Penny Plan." Every year, Congress and the White House will agree to reduce non-defense discretionary spending by 1 percent -- somehow. Over 10 years, this would become $800 billion.
Off Limits
Neither budget proposes any immediate cuts to defense spending, Medicare or Social Security, the lion's share of federal spending. Ryan has called for cuts to so-called mandatory spending, and House Republicans' recent budget calls for cuts to Medicare, although those wouldn't begin until 2024; on Social Security, it only instructs the president to make the program sustainable.
As part of the understanding reached with Ryan, according to a House Republican leadership aide, Trump has been explicitly referring to House Republicans' tax brackets at rallies and in ads. And in a visit with House leadership last week at the Capitol, Mike Pence, Trump's running mate and himself a former House Republican, noted the way Ryan's policies "align with Donald Trump's vision."
Someone at Trump Tower, it appears, may want to pass legislation. And the campaign has signaled that it would get there using both the preferred budget accounting practices of House Republicans, and its St. Augustine road to deficit neutral. Lord, give me non-defense discretionary spending cuts, but not yet. But when You do give them, Lord, make them worth $800 billion over ten years.