'Deeply Sorry' Stumpf Says Wells Fargo Too Slow to Tackle Abuses
by and
CEO doesn't address clawbacks in prepared remarks for hearing

Lawmakers may seek more repurcussions for managers: analyst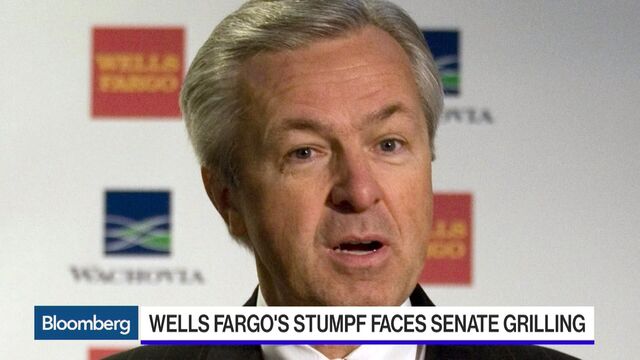 Wells Fargo & Co.'s John Stumpf, struggling to quell a scandal and demands for management accountability, plans to tell lawmakers Tuesday the bank failed customers and the public by reacting too slowly to signs employees were opening millions of unauthorized accounts.
In prepared remarks to the Senate Banking Committee, Stumpf opens and closes by saying he's "deeply sorry" and lays out a five-year timeline of attempts to deter misconduct. The abuses -- which imposed fees on clients, and may have hurt credit scores for some -- wasn't an "orchestrated effort," he said, and executives spent years trying to stamp it out.

"Despite all of these efforts, we did not get it right," Stumpf, the bank's chairman and chief executive officer, said in a copy of his testimony obtained by Bloomberg. "We should have done more sooner to eliminate unethical conduct and unintended incentives for that conduct to occur."
To read the full text of Stumpf's remarks, click here.
The testimony largely tracks remarks Stumpf already made this month, which has yet to assuage public rancor and political pressure for stiffer punishment of senior managers, such as calls by Senator Elizabeth Warren to claw back millions of dollars in pay from former community banking head Carrie Tolstedt. The written testimony doesn't address whether the bank will take that step. Instead, Stumpf reiterates the misconduct violated the firm's values, led to thousands of firings and that he accepts ultimate responsibility.
'Red Meat'
And that may not placate lawmakers Tuesday, setting the stage for harsh questions, according to analysts.
"It's more like an appetizer when they're looking for a main course of red meat," Mike Mayo, a bank analyst at CLSA Ltd., said in an interview. "The main event is being left for the Q&A."
Lawmakers probably will want to hear more about repercussions for top managers, said Ed Mills, a financial-policy analyst at FBR & Co. in Arlington, Virginia, and a former adviser to Democrats in the House and Senate.
"Apologies are good, taking personal responsibility is absolutely necessary," Mills said. "The next step, is saying what, beyond words, is the economic impact to the executives that oversaw this or who had a direct tie to this."
The scandal ignited Sept. 8, when the San Francisco-based bank agreed to pay a record $185 million to authorities including the Consumer Financial Protection Bureau after a review found employees may have opened more than 2 million accounts and credit cards without consumers' permission. The bank had announced in July that Tolstedt was retiring. On Monday, it said Claudia Russ Anderson, who had overseen risk in the retail banking unit, is taking a six-month unpaid leave for personal reasons.
OCC Investigation
Stumpf is scheduled to appear at 10 a.m. before the committee, chaired by Richard Shelby, an Alabama Republican.
Other witnesses include U.S. Comptroller of the Currency Tom Curry, who said he's directing bank examiners to review sales practices at all "large and mid-size banks," and could pursue its own enforcement action against people at Wells Fargo, according to prepared remarks. CFPB Director Richard Cordray also is scheduled to speak.
Stumpf's testimony provides a timeline of the bank's own investigation into the matter. In 2011, a dedicated team began to monitor and root out improper sales. The firm started terminating roughly 1,000 of its 100,000 retail banking employees annually for violations. By 2012, the lender began lowering some sales goals for compensation.
In 2015, an OCC review of Wells Fargo's sales practices revealed shortcomings that prompted the agency to demand changes -- including telling the bank to compensate customers for any harm suffered. The company had to bring in an outside consultant, Curry said. Wells Fargo hired PricewaterhouseCoopers in August 2015 to help determine whether customers were hurt, according to Stumpf.
The CEO outlined other ways Wells Fargo has tried to prevent unauthorized accounts from being created, including working with regulators and creating a new branch compliance program.
Recouping Pay
A group of Democratic Senators, led by Warren, last week wrote a letter pressing Stumpf with questions on pay. The lawmakers singled out Tolstedt, writing that there appears "to be multiple grounds on which to trigger the clawback provisions to recoup some or all of Ms. Tolstedt's incentive rewards." As of the close of business on Monday, lawmakers hadn't received a response to their letter from Wells Fargo, according to people familiar with the matter.
In his remarks, Comptroller Curry said his agency has started "a review of individual misconduct and culpability."
The House Financial Services Committee, led by Chairman Jeb Hensarling, said last week it also plans to conduct its own investigation and will hold a separate hearing later this month. Hensarling, a Texas Republican, said he plans to request that Stumpf appear for that hearing too. Tolstedt as well as other corporate officers will be called for transcribed interviews, the lawmaker said.
Stumpf may also face questions Tuesday about whether Wells Fargo set the stage for abuses with aggressive sales targets tied to bonuses. During a conference call hosted by the Committee for Better Banks, a group pushing to improve conditions for low-level financial workers, former branch employees blamed such pressures for what happened and said they exist across the industry.
"This behavior comes from the top at Wells Fargo," Shane Larson, the legislative director for Communications Workers of America, said on the call. "This is an industrywide issue and problem. Wells Fargo is just the tip of the iceberg."
Before it's here, it's on the Bloomberg Terminal.
LEARN MORE