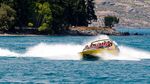 New Zealand's sizzling economy has prompted Goldman Sachs to go out on a limb and call an end to the country's easing cycle.
Data last week showed gross domestic product expanded 3.6 percent in the year through June, putting New Zealand among the fastest-growing economies in the developed world and suggesting inflation should finally start to gather pace.

The Kiwi economy is ``too strong to justify further rate cuts,'' Tim Toohey, chief economist at Goldman Sachs Australia, wrote in a note to clients. He cancelled the two rate reductions he'd been forecasting and said the Reserve Bank of New Zealand will now hold its official cash rate at 2 percent through 2017.
That's a bold call after RBNZ Governor Graeme Wheeler all but committed himself to at least one more cut as he struggles to return inflation to target. While 16 other economists surveyed by Bloomberg expect Wheeler to keep borrowing costs on hold at Thursday's policy decision,  they all predict he'll lower them in November and some forecast another cut early next year.

New Zealand's strong dollar is damping the price of imports, meaning Wheeler has to crank up domestic price pressures to get inflation back into his 1-3 percent target band. He's worried the longer the gauge stays low -- it's currently at 0.4 percent and forecast to slow further -- the greater the risk inflation expectations will drop and create a deflationary spiral.

Goldman may be on to something though. The GDP data showed a surge in household spending growth to a four-year high, suggesting inflation may be just around the corner. Spending was led by categories such as furniture, carpets and audio equipment. 

Throw in a booming housing market that's seen the average price in Auckland surge to NZ$1 million ($730,000), and the case for further rate reductions looks less and less compelling.

Bank of New Zealand senior economist Craig Ebert said there are clear signs emerging of the ``wealth effect,'' where rising house prices make consumers feel richer and they start to spend more, stoking inflation -- something that's been missing from New Zealand's economic landscape for some time.   
This ``will surely  have the RBNZ wondering about the need for cutting the OCR further, to lower lows,'' Ebert said. ``However, it also seems fair to say that the Bank sees its headline CPI inflation forecasts, and public expectations thereof, as the ultimate determinant of its OCR settings.''

Wheeler's language on Thursday may give a pointer to the bank's current thinking. In August, he said further policy easing ``will be required'' to return inflation to target. Reiterating that would signal the bank still plans to cut rates in November, while reverting to the previously used ``may be required'' could convince others to move out onto that limb with Goldman.

Investors may be edging that way already. They're pricing a 54 percent chance of a rate cut by November, down from 75 percent a month ago, swaps data show. 


Before it's here, it's on the Bloomberg Terminal.
LEARN MORE