Shakira and Other VIPs: Education Is "the Best Investment the World Can Make"
Investing $1 in another year of schooling "generates earnings and health benefits of $10 in low-income countries," the panel's report found.
By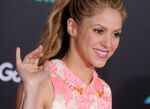 "A quarter of a billion children and young people are out of school. Another 330 million are not learning because we fail to invest in them even when they are in school."
So says a report released Sunday by a blue-ribbon commission that includes the singer Shakira, Alibaba founder Jack Ma, and former British Prime Minister Gordon Brown. 
Many children in developing countries aren't getting a fair shot at launching their lives, said the commission, which was convened by the presidents of Chile, Indonesia, and Malawi and the prime minister of Norway. Among its commissioners are former Mexican President Felipe Calderón and former Australian Prime Minister Julia Gillard; Harvard economist Lawrence Summers and former Danish Prime Minister Helle Thorning-Schmidt were among its directors.
Their report, "The Learning Generation: Investing in education for a changing world," said that low-skilled jobs are disappearing and calculates that investing $1 in an additional year of schooling—particularly for girls—"generates earnings and health benefits of $10 in low-income countries and nearly $4 in lower-middle income countries."
Nations differ widely in how effective their education systems are, the report found. Vietnam and Tunisia spend similar shares of their gross domestic product on education, but "in Tunisia only 64 percent of students passed the secondary international learning assessment, while in Vietnam it was 96 percent," it said.
Brown, who chaired the commission, said in an interview that Americans in particular should understand the importance of education for geopolitical stability.
There are 200 million young people in the Middle East and North Africa who are growing up without adequate educations, he said. "That's a recipe for seething discontent," he said. "The gap between their expectations and what's being delivered is so wide ... I think we should be concerned about the security implications."
An insiders' argument in development circles is about whether health or education is more important. A year ago, economists from 44 countries led by Harvard's Summers called on the United Nations to prioritize health, but Brown said that in the past 15 years or so, aid for health has risen while aid for education has fallen.
"I think we should reemphasize education," he said. "It's education that unlocks the gains in health, employment, environment, and quality of life. Education is the key to anti-poverty strategy."