Jobs Bubble Shows Why Bank of Russia Is Giving Up on Economy
by
Unemployment unexpectedly fell while consumer demand suffers

Central bank vowed to hold rates through 2016 after decrease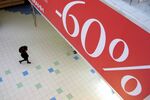 Unemployment was again the lone bright spot in a sea of bad news for the Russian consumer last month. To the central bank, it's less an aberration than a glimpse into everything that's wrong with the economy.
Joblessness has been an outlier throughout the longest recession under President Vladimir Putin and in August it slipped for a fifth month to near the lowest since late 2014, the only key consumer indicator that fared better than forecast by economists. Governor Elvira Nabiullina, whose central bank issued an unprecedented commitment to leave interest rates unchanged the rest of the year after a cut on Friday, singled out the labor market as emblematic of the "internal structural factors" constraining the economy and limiting the price-containing effect that weak consumer demand should have.
While remaining immune to the downturn as employers hoarded workers and poor demographics added to the squeeze on businesses, the taut labor market is putting pressure on wages that risks spilling into inflation. Companies have kept job losses down with part-time hours and unpaid vacations. Given Russia's state-heavy economy, demand from the public sector is adding strain to the nation's labor supply, according to Alfa Bank.
"The structure of employment in the economy is turning out to be pro-inflationary," said Natalia Orlova, chief economist at Alfa Bank in Moscow. "Not only are there demographic restrictions, but a workforce shortage is making it necessary to overpay people who are in the market because there's just not enough of them."
'Hawkish Easing'
The Bank of Russia took a policy turn described by Rabobank as "hawkish easing," when policy makers lowered the benchmark rate to 10 percent from 10.5 percent and vowed to pause even as the bank cut its forecast for 2017 economic growth. Nabiullina said it's the first time the monetary authority issued such an explicit commitment on rates as risks linger that it will fail to deliver on its 4 percent inflation target in 2017.
Factors stemming from Russia's "infrastructural and institutional profile" have a potential impact on the economy that "may be stronger than our expectations," Nabiullina said after the rate decision. "Even now, they find their way into the unstable recovery of economic activity, as well as signs that disinflationary pressure from demand is declining."
Derivatives traders scaled back their bets for a rate cut in the next three months after Friday's decision. Forward-rate agreements now indicate 15 basis points of easing, down from this month's high of 71 basis points. The ruble traded 0.3 percent weaker at 64.8475 against the dollar as of 3:40 p.m. in Moscow on Tuesday.
Sales, Incomes
Consumer demand continued to reel last month, with retail sales shrinking 5.1 percent from a year earlier after contracting a downwardly revised 5.2 percent in July. Real disposable incomes plunged 8.3 percent, the most since December 2008, and wages adjusted for price growth declined 1 percent. Still, the median value of inflation expectations for a year ahead remains at more than triple the central bank target.
The working-age population will continue to contract after shrinking by 5 million since its peak in 2006, cutting Russia's potential economic growth to near zero in 2016-2017, according to Bank of America Corp. With total employment stagnating in recent years, labor-force participation exceeded 69 percent in 2015, the highest level in the post-Soviet period, BofA estimates. The central bank said on Friday that for now it doesn't see inflationary pressures coming from the labor market.
Low unemployment has allowed Putin to skirt the political cost of the recession, keeping up his approval ratings and helping his party to a crushing victory in parliamentary elections on Sunday. With no momentum no overhaul the economy, the central bank is abdicating its role in nurturing growth, according to Capital Economics Ltd.
"The central bank almost distances itself from any responsibility for boosting growth, emphasizing that its priority is inflation, and it's up to the government to do structural reform to increase potential growth," said Liza Ermolenko, a London-based analyst at Capital Economics.
Before it's here, it's on the Bloomberg Terminal.
LEARN MORE