Spend
Got a Porsche 911? Here's a $3,500 Speaker Made From Its Muffler
Gearhead lifestyle for your living room.
By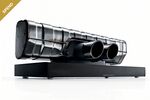 Key Details: 911 Soundbar is a state-of-the-art speaker system created out of an original 911 GT3 muffler made in Germany. 
Competitors: Bose SoundTouch 300, Bowers & Wilkins Zeppelin
Price: $3,500
Why It's Worth It: Porsche Design drives home audio into collectible tech territory.
This goes out to all the gear heads: a high-end speaker system hewn from an original Porsche 911 GT3 silence and exhaust unit. These are the same German-made mufflers that are used for the sports car; however, they were never installed.
I don't count myself among Porsche die-hards—whom this is 100 percent targeting—but after putting the speaker in Manhattan's Porsche Design store through paces, I'm at least an aural convert.
Like the race car, the 911 Soundbar is powerful. Audio quality was impeccable—not to mention really, really loud, without distortion, when you crank it up. (A max 99 decibels of tunes, rather than fumes, blast out of the tail pipes.) The specs are solid: a 2.1 virtual surround system, bass and treble control, and LED display, Bluetooth interface with easy pairing function and wireless, lossless audio transmission due to aptX technology. There are digital inputs, too, for devoted audiophiles, and a subwoofer output to make this part of a complete audio system, plus a remote control volume if you're not streaming via Bluetooth.
As for the aesthetic, the 74-centimeter long by 28-cm wide (29-inch by 11-inch) unit weighs about 40 pounds and reads ultra-masculine—and thanks to the weathered chrome, rather striking in person. But is it hokey? I think that depends on how much of a Porsche nut you are. As far as bachelor pad sound systems go, we can't imagine you not getting a comment or three when you have guests over for cocktails.
The 911 Soundbar is currently in limited production (read: waitlist) with a MSRP of $3,500. Orders placed now should be filled by the end of October. Which means, if you're looking for a cool, unexpected gift for that car lover in your life, plenty of time remains till the holidays.
Before it's here, it's on the Bloomberg Terminal.
LEARN MORE