business
HBO, FX Share Emmy Lead on Night of Diverse Award Winners
By
'People v. O.J.' wins five awards, while HBO grabs top Emmys

Cast of winners underscores contrast with the Academy Awards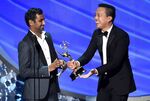 21st Century Fox Inc. executive John Landgraf has spent the past decade telling anyone who would listen that the shows on his TV network FX are as good as those on HBO. Sunday night at the Emmy Awards, he received affirmation with six golden statuettes.
FX and HBO shared the spotlight at the annual celebration of the best in TV, held in Los Angeles at the Microsoft Theater. HBO earned the top two prizes for comedy and drama with "Veep" and "Game of Thrones," repeat winners from a year ago, while FX tied HBO for the most awards of any network thanks to "The People v. O.J. Simpson: American Crime Story." The Nielsen ratings for the show, up against a National Football League game, were the lowest on record.
Emmy victories will boost the two networks in a marketplace growing more crowded and competitive due to the emergence of streaming services like Netflix and Amazon. Landgraf has often warned about the excessive volume of TV being produced -- he counted 419 scripted shows in one year -- a phenomenon he has dubbed "peak TV."
TV networks have spent months campaigning for awards, lavishing millions of dollars on events, screenings and mailers. Nominations and wins can help draw new viewers and promote shows the networks sell overseas. Still, the telecast itself provided few surprises, with the awards going to old favorites and new critical darlings.
Diverse Winners
The result? A diverse group of winners. Six networks won at least two awards, including broadcaster NBC, the basic cable network FX, the premium cable network HBO, streaming companies Netflix Inc. and Amazon.com Inc., and publicly supported PBS.
Actors, filmmakers and writers who won trophies trumpeted their diversity as well, with the winners including Asian-Americans, Caucasians and blacks, heterosexuals, gay and lesbian, male and female.
Late-night personality Jimmy Kimmel, who hosted the Emmy Awards on Walt Disney Co.'s ABC network, applauded the television academy for producing the most diverse group of nominees in history. That's a stark contrast with the Oscars, which are routinely criticized for their exclusion of minorities.
| Network | Awards |
| --- | --- |
| FX | 6 |
| HBO | 6 |
| Netflix | 3 |
| PBS | 2 |
| Amazon | 2 |
The Emmy broadcast averaged 11.3 million viewers, according to a statement Monday from ABC. That was down almost 5 percent from a year ago and the lowest total in Nielsen records going back to 1975.
HBO, owned by Time Warner Inc., won six awards in total. Julia Louis-Dreyfus won her fifth straight Emmy for outstanding comedic actress, while her show "Veep" won outstanding comedy for a second year in a row despite the departure of creator Armando Iannucci. Variety show "Last Week Tonight with John Oliver" on HBO won the prize once ruled by Oliver's former boss Jon Stewart.
Reigning Winner
HBO's biggest winner on the night was "Game of Thrones," which took home the awards for best writing, directing and drama series. The global popularity of "Thrones" has blunted the sting of recent high-profile failures for HBO like "Vinyl" and the second season of "True Detective." "Thrones" is one of the most-watched shows on cable, and has added new viewers with every season.
FX wins were less spread out. "American Crime Story: The People v. O.J. Simpson," its acclaimed show about the murder trial of the famous football star, accounted for five of its six trophies. The network's most-watched new program, "American Crime Story," won the prize for Outstanding Limited Series or Movie, and its stars triumphed in the acting categories.
Courtney B. Vance was named outstanding lead actor in a limited series for his performance as Johnnie Cochran, the lawyer who led Simpson's successful defense, and Sarah Paulson won the actress prize for her performance as prosecutor Marcia Clark.
Though Netflix didn't win in one of the major categories, the company earned its best total yet in prime time with three awards. The streaming service scored its first prize for TV writing when Aziz Ansari and Alan Yang won for their work on "Master of None," a comedy starring Ansari as an aspiring actor.
Life as Immigrants
Ansari and Yang created the show after working together on NBC's "Parks and Recreation," and spent each episode exploring a different topic, from the challenges of dating in the internet era to the experience of growing up as the child of immigrants.
Yang encouraged Asian parents to buy their kids cameras instead of violins during a speech in which he noted the lack of major TV shows and movies created by and starring Asian-Americans.
"There's 17 million Asian Americans in this country, and there are 17 million Italian Americans," Yang said. "They have 'The Godfather,' 'Goodfellas,' 'Rocky,' 'The Sopranos.' We got 'Long Duck Dong."'
Yang and Ansari, both Asian-Americans, won for their episode about growing up the children of immigrant parents, and spent another episode of the show's first season exploring the absence of diversity in Hollywood.
That topic has been a persistent concern in a town that prides itself on inclusion and socially liberal politics. All 20 actors nominated at the Oscars earlier this year were white, and a recent study by the Directors Guild of America found that women directed just 17 percent of the episodes of scripted TV in the 2015-2016 season, and people of color directed just 19 percent.
Jeffrey Tambor, who won for his performance as a transgender person on Amazon.com Inc.'s comedy "Transparent," encouraged Hollywood executives and agents to give more roles to transgender actors.
"Give them auditions. Give them their story. Do that," Tambor said. "And also, one more thing, I would not be unhappy if were I the last cisgender male playing a female transgender on television. We have work to do."
(
Updates with record-low ratings starting in second paragraph.
)
Before it's here, it's on the Bloomberg Terminal.
LEARN MORE