The Real Reason Investors Are Backing the Tesla-SolarCity Deal
By and
Analysts predict Tesla bid for SolarCity will get the OK

He's expected to start shopping for about $2 billion soon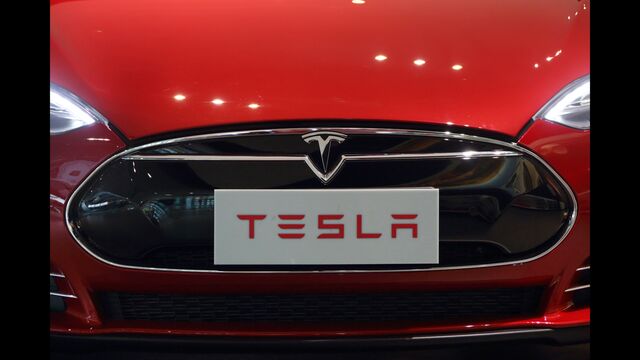 Elon Musk's publicly traded companies have burned through close to $2 billion this year, and he needs billions more just to bring his next Tesla electric car to market on schedule.
Which is why people like Jim Chanos have wondered aloud lately about whether the controversial plan to marry Tesla Motors Inc. and SolarCity Corp. would save Musk's empire -- or sink it. By one financial measure, the odds are 1 in 5 that Tesla-SolarCity, with a combined $3.8 billion in long-term debt, would be broke within three years. The spread between SolarCity shares and the value of Tesla's offer has been widening, suggesting waning market confidence the deal will go through. Four Tesla shareholders have filed lawsuits.
And yet, Musk watchers on Wall Street are still predicting he can pull it off, and go on to raise fresh money from investors. A main reason: The two companies have many of the same big stakeholders, after the biggest of all, Elon Musk, who's chairman of both and chief executive officer of Tesla.

When the takeover goes to a vote, possibly later this year, SolarCity shareholders are expected to say yes because Tesla is offering roughly $5 more a share than their stock is worth now. Those invested in Tesla may give the nod because they believe in Musk. Dual shareholders might go for it, in part, because if they don't they could be stuck with a dog in SolarCity.
"There's a very high likelihood the deal goes through," said Charlie Anderson, senior research analyst at Dougherty & Co. in Minneapolis.
Shows Of Support
As usual with Musk backers, it's all about looking way down the road. "The vast majority of institutional investors that have a long position in Tesla are valuing the company based on what will happen five years out from now and beyond," Anderson said.
Musk aside, seven of the top 10 Tesla owners have chunks of SolarCity. In apparent shows of support, all seven, including Fidelity Investments and BlackRock Inc., raised their stakes in Tesla in their most recent filings. The Bank of Montreal, the car maker's sixth-largest shareholder and SolarCity's third, added 310,020 Tesla shares Sept. 14. None would comment for this story.
The merger has been painted by some as a bailout of SolarCity -- whose CEO is Musk's cousin -- that would drag the stronger company down. The four lawsuits claim Tesla executives and directors breached their fiduciary duty by making the bid because Tesla insiders have stakes in both companies. Tesla agreed to buy SolarCity on Aug. 1 in all-stock deal valued at $2.6 billion.
'Without Merit'
The plaintiffs, who own undisclosed amounts but aren't among the major owners, are the City of Riviera Beach Pension Fund in Florida, the Arkansas Teacher Retirement System and individual investors P. Evan Stephens and Ellen Prasinos. One suit seeks an injunction to stop the transaction, potentially holding up a deal until a hearing on Oct. 18 at the earliest.
The cases are without merit, Tesla said in a regulatory filing Monday. In an e-mailed statement, Tesla said that "simply because someone uses litigation to try to delay an acquisition does not mean it will be successful. At this point, it is not yet known if anyone will even end up pursuing such a request." SolarCity declined to comment for this story.
Some shareholders were in such opposition to the merger that they sold their positions; Tesla fell more than 10 percent to $196.66 on June 22, the first trading day after news of the takeover bid. The stock has been moving up, though it's far from its recent high of $265.42 in April. The shares slipped less than 1 percent to $204.85 at 11:07 a.m. Tuesday.
Investors' muted reactions to the lawsuits suggest they see little additional likelihood of the cases derailing the deal. Tesla rose less than 0.5 percent Monday, while SolarCity fell 1.5 percent.
'Crazy' Idea
The critics don't buy Musk's integration vision, which sees profits in connecting SolarCity's business to Tesla products, including the Powerwall home battery device. His idea is to make Tesla stores gleaming one-stop shops for vehicles and all the gear, including rooftop panels that can harness the power of the sun to fuel Powerwalls and charge cars.
One concern is that Musk could raise what analysts figure he'll soon be shopping for -- estimates go from $1 billion to $2 billion -- and still not fill enough holes. Chanos, a short-seller famous for betting early against Enron Corp., said on CNBC last week that a merger would be "crazy" and "a walking insolvency." The Altman Z-score created by New York University Professor Ed Altman, which computes the likelihood a company will go bust, puts at 20 percent the probability Tesla-SolarCity would be bankrupt within three years.
Neither SolarCity, based in San Mateo, California, nor Tesla, in nearby Palo Alto, has ever turned an annual profit. But Tesla makes a wildly popular line of high-end electric vehicles, projecting it'll deliver 80,000 this year, and has attracted about 370,000 pre-orders for the mass-market Model 3 that will be available late next year.
$17.50 to $10?
SolarCity doesn't have any of that going on; it's had to focus on stanching losses instead of growing as the pace of solar installations has slowed. Andrew Bischoff, a Morningstar Inc. analyst who covers SolarCity, said if the company remains independent its stock could drop to $10. SolarCity shares gained 2.6 percent to $17.68 at 11:08 a.m. Tuesday.
For the dual shareholders, "the one positive from this is that SolarCity would have access to Tesla's ability to raise funding," said Angelo Zino, an analyst with S&P Capital IQ. "Does this make Tesla a better company over the next 12 months? I find that hard to believe."
SolarCity has enough money to keep going for six to nine months, Zino said. Last Monday, the company announced it had raised cash through two deals: The first was selling future cash flows from SolarCity developments to Quantum Strategic Partners Ltd., a fund advised by the billionaire George Soros; the second was an 18-year-loan from a syndicate of five lenders. Combined, they netted SolarCity $305 million.
Tesla -- which sold $1.4 billion in a secondary offering in May -- will make its quest for more money in the fourth quarter, Musk told employees in an Aug. 29 e-mail obtained by Bloomberg. Cowen & Co. analyst Jeff Osbourne predicted the company would seek close to $1 billion, and look for another $1 billion next fall. Ben Kallo, with Robert W. Baird & Co., said he expected the ask would be for $1.5 billion. At Dougherty, Anderson said he was anticipating $2 billion.
Since Tesla made its bid for SolarCity, Kallo said, he's grown increasing sure the deal will go through. "I think there is an 80 percent chance."
Before it's here, it's on the Bloomberg Terminal.
LEARN MORE