Morgan Stanley: The Next 6 Months Look Good for the U.S. Alcohol Market
by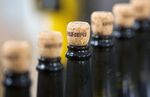 Animal spirits are alive and well. 
According to a new note from Morgan Stanley, alcohol distributors are confident that a job market sitting near full employment and consumer confidence that is still pretty strong (despite a recent stumble) will have people calling for a toast. 
"The majority of respondents are optimistic about the outlook for their business," the team, led by Olivier Nicolai, wrote. "Among U.S. distributors, 53 percent of our respondents are more optimistic about the next 6 months vs. 40 percent in our April survey."
The survey's respondents included senior employees at distributors, and was conducted online from August 9 until September 2. Brands like Jameson, Remy Martin, and Woodford Reserve saw the most optimism, while Captain Morgan, Bacardi, and Absolut were the most cautious. 
Of course, there was a bit of a catch. While more of the respondents did say they were optimistic about the future, there was also a rise in those that were getting a bit more nervous. It was the "unchanged" option that shrunk. 
The team said that the results by and large still leave them very optimistic on the future of most brands, especially when combined with strong consumer sentiment, low gas prices, and a healthy job market. "This should provide a solid base for the U.S. beer and spirits markets to continue to grow strongly in the second half of the year," they conclude. 
Before it's here, it's on the Bloomberg Terminal.
LEARN MORE