May to Urge U.S. Companies Not to Pull Investment From U.K.
By
U.K. Premier to meet executives from Goldman Sachs, Blackrock

May says she'll get 'the right deal' for U.K. on Brexit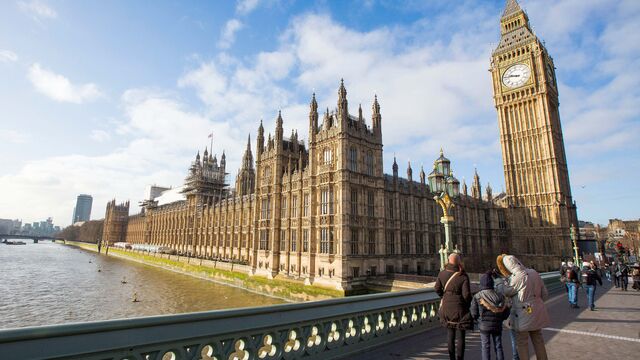 Prime Minister Theresa May will use a meeting with representatives of some of the biggest U.S. companies in New York on Monday to attempt to reassure them that Brexit shouldn't be a reason to pull investment from the U.K.
Many U.S. companies have found Britain an attractive place to base their European operations, but the country's vote to withdraw from the European Union, the world's biggest trading bloc, could jeopardize that. The premier is visiting the U.S. for two days to attend the United Nations General Assembly, where she hopes to talk about aviation security, migration and modern slavery. But she's also put two business events into her schedule. 
"Something like a million people in the U.K. wake up each morning and then go to work for an American company," May told reporters traveling on her plane. "I will be talking to them and hearing from them what their emphasis is in terms of the issues they want us to address."
May's first business meeting is with senior executives from U.S. companies including Amazon.com Inc., the Goldman Sachs Group, Morgan Stanley & Co., International Business Machines Corp., BlackRock Inc., and United Technologies Corp., to hear their concerns about how Britain's withdrawal from the EU affects their businesses. The second is a reception in the evening for around 60 business leaders.
May is in New York at the same time as London Mayor Sadiq Khan, who warned on Sunday that access to the EU single market is "crucial" to the capital's continued success. That has been the position of Chancellor of the Exchequer Philip Hammond, but people familiar with his thinking said Friday he has accepted this could be impossible to achieve. May refused to be drawn on her own views.
"We're going to get the right deal for the U.K.," she said.
During the trip, she'll meet a series of fellow leaders, including from Pakistan, Japan, Egypt and Turkey.
Sign up to receive the Brexit Bulletin, a daily briefing on the biggest news related to Britain's departure from the EU.