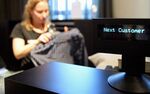 Want to increase your happiness? Look no further than your work schedule. Unstable working hours can harm employees' financial security and amplify their stress, according to research from the Washington-based Center for Equitable Growth.

While it's well-documented that irregular shift scheduling has become prevalent in the U.S., sociologists Daniel Schneider and Kristen Harknett set out to find out how that affects workers' wellbeing. To do that, the pair surveyed 6,476 hourly non-managerial service sector workers employed across eight large retail firms or fast food restaurants. 

Nearly half of the respondents lived off of varying weekly incomes, according to the survey. About 53 percent of workers who received their schedules less than one week in advance reported high income volatility — defined as struggling to pay bills and earning different amounts week-to-week — compared to only 44 percent of workers who received their schedules with more than two weeks' notice. Regarding health, about half of workers with unpredictable schedules reported "serious psychological distress" compared to only 37 percent of workers with more stable scheduling.