GoPro Unveils Camera Drone in Effort to Boost Sales, Stock
by and
Karma quadcopter priced at $799 includes backpack and grip

New cameras Hero5 Black and Hero5 Session also make debut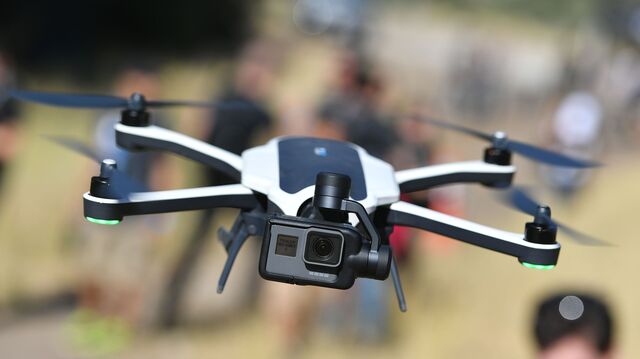 GoPro Inc. unveiled its long-anticipated drone, adding a new dimension to the action-and-adventure film-making it has become famous for through tiny, cube-shaped cameras, and sparking a rally for the company's flagging stock.
The Karma drone, priced at $799, fits into a small, included backpack, and features a detachable camera stabilizer as well as a game-style controller with a display to show the live feed from the drone's camera. GoPro had planned to release the drone earlier this year but delayed its debut until Monday in part to make sure the camera stabilizer worked well, Chief Executive Officer Nick Woodman said in a conference call after an event to show off the drone in Squaw Valley, California.
"We felt the consumer deserved that we take a little bit of extra time to nail it," Woodman said. "In terms of strategy and fitting Karma into GoPro's existing product line and value proposition for consumers, it's got to be versatile and got to work in all the ways a standalone GoPro camera works." That's why the drone also comes with a separate hand grip that can attach to the stabilizer, he said.
GoPro, based in San Mateo, California, also also introduced the latest iterations in its Hero camera line, the $399 Hero5 Black and the smaller Hero5 Session at $299. Both cameras are waterproof.
After the drone's release was postponed earlier this year and the Hero 4 entered the market late and overpriced last year, GoPro is in need of a hit. Its stock has tumbled 17 percent in the past year through Friday and is down almost 85 percent from its October 2014 high. It rose as much as 9.9 percent Monday to $16.44.
Bloomberg Intelligence analyst Jitendra Waral said the Karma launch will be a "pivotal event for the company," and a chance for GoPro to renew sales growth by "jump-starting" a nascent category through its brand strength and dedicated user base of about 10 million people.
GoPro could also disrupt the drone market that's so far been dominated by Chinese manufacturer SZ DJI Technology Co. and countless upstarts that are flooding the market with cheap drones, from $10 mini toys to sub-$100 camera carriers. Shenzhen-based DJI has been developing its drones for almost a decade, and its most advanced quadcopters are featured in Apple's stores and websites. Drones are still largely novelty items, yet manufacturers are betting they can capture a part of the consumer market that's estimated to reach $4.19 billion by 2024.
GoPro's Karma has potential to gain decent traction if it's priced under $1,000 and has all the capabilities of existing drones in that price category, according to Colin Snow, founder of Skylogic Research. At the most basic level, the drone needs to have a 4K camera, sense and avoidance capabilities so that the drone doesn't crash into things, camera stabilization, and the ability to take excellent footage, he said.
"Will GoPro grab market share from companies that have been out there for a while like DJI? It depends upon what level of sophistication it comes in at and how well it does when it initially releases," Snow said. "Almost no drone we've ever seen comes out without a host of problems."
Both of the new cameras announced Monday can shoot with video resolution as sharp as 4K at 30 frames per second and can be mounted on the drone. The new cameras can upload photos and videos while charging to GoPro's cloud-based subscription service that allows users to store, edit and share their content. New apps for smartphones and desktops are an important part of the company's strategy to provide consumers with the hardware and software needed to craft video stories, Woodman said in an interview on Bloomberg Television.
"It's not just enough to enable the capture of great moments," he said. "GoPro is not just a camera company anymore."
The addition of the new products doesn't affect GoPro's 2016 revenue and margin outlook, Chief Financial Officer Brian McGee said on the call. Because the company is still new to building robots, he expects that GoPro will be able to cut costs of producing the drones in the future.
Watch Next: GoPro CEO on New Camera Drone, Company Performance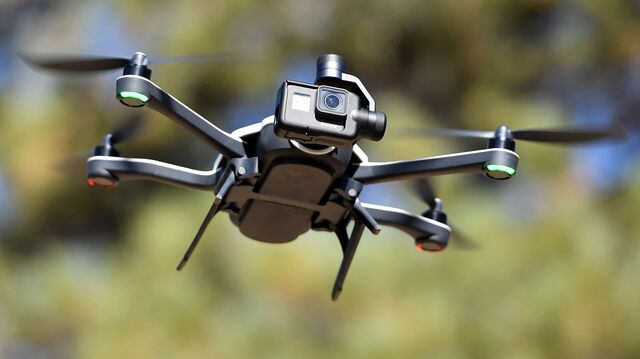 Before it's here, it's on the Bloomberg Terminal.
LEARN MORE