Fear Trumps Greed in Global Markets Few Can Describe as Euphoric
by and
Money keeps flowing out of stocks while cash holdings rise

Record amount of managers calling equities and bonds expensive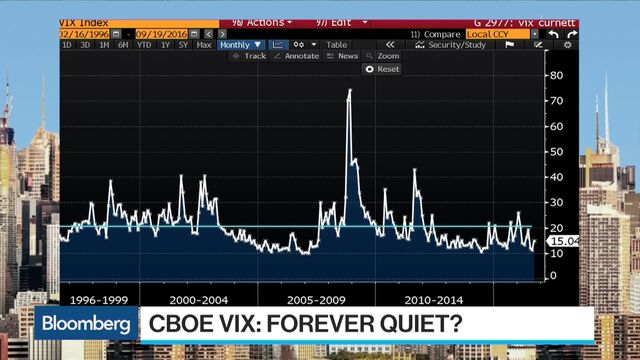 Bull runs, the theory goes, break down after investors put prudence on hold and let euphoria guide them. Based on the restrained state of sentiment today, however, markets are a long way from overheating.
Positioning data show that greed, while not invisible in stocks and fixed income, is still taking a back seat to fear. In equities, prices may be high, but the ranks of investors willing to pay them keeps getting smaller. Even though bond yields are hovering around record-lows, ownership data in futures is the least bullish in seven months.

For all the talk of bubbles and markets inflated by easy money, investors show few signs of euphoria -- a posture that analysts say explains the shallowness of the last few selloffs. Skepticism among traders informs a host of bull cases in both asset classes, particularly equities, where Citigroup Inc. says September's volatility has triggered enough investor fear to reignite gains.
"This is one of the most angst-ridden markets we've seen in some time, which tends to mean that this has a longer trajectory to the upside," said Matt Lloyd, chief investment strategist at Advisors Asset Management, which oversees $16.5 billion in Monument, Colorado. "Investors have been prepped for any kind of crash for so long that even when we get one, there won't be that much more to a downside."
From uncertainty over central bank policy and presidential elections to falling corporate profits, the things that keep investors up at night are multiplying. According to Bank of America Corp.'s September survey of money managers, a record 54 percent of respondents described equities and bonds as overvalued. Cash holdings rose to 5.5 percent, near the highest level since the 2008 global financial crisis.
In the week leading up to the Sept. 9 rout, hedge funds and money managers reduced their net bullish bets on Treasury bond futures to 24,134 contracts, half the average level this year, according to data from the Commodity Futures Trading Commission. They cut back again last week, with positions falling to a seven-month low as 10-year Treasury yields increased for a second week.
"You still see the momentum trade, but everyone knows liquidity is less than what it used to be, the price to move in and out of a trade is much more costly these days," said Sean Simko, who manages $8 billion at SEI Investments Co. in Oaks, Pennsylvania. "You're moving in to do a fast trade, but you have your finger on the trigger and your points to exit a little quicker. The market is more jittery."

Caution is common among retail investors, who are pulling money from stocks at one of the fastest rates on record. Almost $90 billion was withdrawn from equity mutual and exchange-traded funds in the first eight months of year, according to data compiled by Investment Company Institute and Bloomberg. That exceeds outflows from all but one year at this point of time in data going back to 1984.
All that may explain why the stock market has held up in the days after the 2.5 percent plunge on Sept. 9 shook the S&P 500 Index out of the tightest trading range ever recorded. While shares haven't fully recovered the losses, the degree to which they are moving in tandem has surged, a sign to strategists such as Citigroup's Tobias Levkovich that the complacency underpinning the S&P 500's 20 percent rally from February is subsiding.
"The most worrisome near-term factor has eased, thereby reducing stock price risk," Levkovich wrote in a Sept. 13 note to clients. "It is more than likely that qualitative measures of complacency noted in client meetings over the last few weeks have changed to a degree of angst."
Citigroup's measure of 20-day correlation between the top 50 stocks jumped to 50 percent from less than 10 percent in a span of two weeks.
Levkovich kept his year-end target for the S&P 500 at 2,150, in line with the average of 19 Wall Street strategists surveyed by Bloomberg and about 2 percent above the index's closing level. While strategists have seen the benchmark gauge surpassing their forecasts since early August, most of them are sticking to calls that share prices have peaked for 2016.
To be sure, there are signs greed is creeping back. At 18 times forecast earnings, the S&P 500 is trading near the highest multiple in more than a decade.
In some corners of the equity market, optimism is running higher than ever. Take futures trading, where hedge funds are a key player, net long positions in contracts linked to the S&P 500, Nasdaq 100 Index and Dow Jones Industrial Average totaled about $60 billion in late August, the most in CFTC data compiled by Sundial Capital Research Inc. since 1986, while net short positions in the VIX reached a record.
Yet even those bulls are ready to pull back. In the latest showing of CFTC data, large speculators trimmed their holdings in S&P 500 futures by about 23,300 contracts, the most in five years.
It's been a while since a protracted decline took hold. Following Britain's decision to exit the European Union, the S&P 500 Index dropped 5.3 percent over two days, only to rally the next four and erase the entire plunge two weeks later. Two corrections of 10 percent that began in August 2015 and January 2016 also proved short-lived.
"Having a cautious level of sentiment certainly helps minimize the excess euphoria," said Joseph Amato, president and chief investment officer of equities at Neuberger Berman LLC in New York, where the firm oversees $246 billion. "We're not prepared to chase the market simply based on yield-driven multiple expansions. We see modest earning growth, which means we see modest upside in the markets.''
Before it's here, it's on the Bloomberg Terminal.
LEARN MORE