Facebook Is Debunking One of the Key Bear Arguments
Things are even better than they seem.
by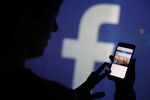 Facebook still has its friends on Wall Street.
While some investors have voiced concern in recent months over the social media giant's ability to withstand competition from rivals and continue to grow advertising revenue, Citigroup Inc. analysts figure Facebook passes the bank's "stress test." In a note published on Sunday, they boost their price target on the stock from $148 to $158.
"In recent months investors have grown concerned about the possible slowdown in ad load growth and the potential threat posed by Snapchat on Facebook's user and user engagement growth," Citi analysts led by Mark May wrote in the report. "We analyzed these concerns by stress testing key underlying Facebook model assumptions and concluded that Street forecasts not only appear reasonable but also potentially conservative." 
Analysts covering social media companies look at engagement and active user numbers to get a sense of where things are heading and thus where advertising dollars might be spent in the future. Facebook has continued to show strong growth despite the rise in competition, while other social media platforms have struggled.
In their research, Citi found that worries over slower growth in ad load — or the number of ads that appear in Facebook users' news feeds — have been "overblown." To meet current estimates on Wall Street, ad load only needs to grow in the single digits, Citi said, and the analysts expect it to increase by a fair amount more than that. 
When it comes to engagement trends in the face of Snapchat's rising appeal amongs younger users in particular, ere, things don't look to bad either. Citi says data from third-party data firm Sensor Tower, as well as its own analysis based on daily active users, shows that the average time spent on the Facebook app as well as Instagram "continues to rise"

The analysts are predicting overall engagement growth for 2017, 2018 and 2019, of 0.9 percent, 0.5 percent and 0.6 percent respectively. 

Morgan Stanley published a similar note in July arguing that Facebook was shrugging off the Snapchat threat. Others are not in agreement, however. Andrew Left of Citron Research, for instnace, thinks the social media giant is more fragile to competition, and that analysts are too optimistic on its future. Expectations of Facebook's growth have "outpaced the realities of what they're going to face in the next 12 to 24 months," he said in a July interview on Bloomberg TV. 
Right now there are 43 buy ratings, six holds and one sell, according to data compiled by Bloomberg.
The average price target is $155.25, and Facebook closed at $129 on Friday.
Before it's here, it's on the Bloomberg Terminal.
LEARN MORE