Duterte Scores Win as Senate Allies Oust Philippine Critic
by
Lawmakers move to remove chairwoman investigating drugs war

More than 3,000 killed in campaign since Duterte took office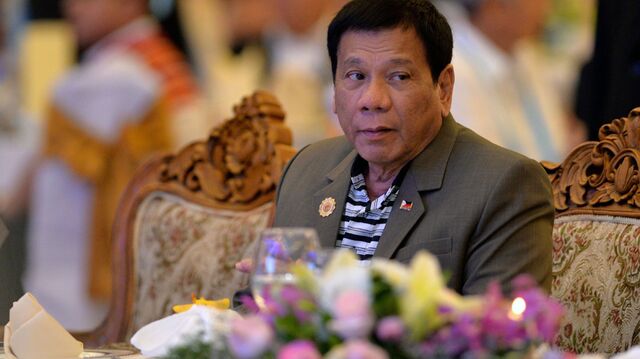 Philippine President Rodrigo Duterte's allies in the Senate voted to replace the head of a committee investigating his anti-drug war, which has seen more than 3,000 people killed in less than three months.
Sixteen of 24 senators voted on Monday to replace Senator Leila de Lima, the head of the justice and human rights committee and one of Duterte's most vocal critics. The move raises questions about the future of a probe that has threatened to drain political support for Duterte's war on drugs, alongside criticism of his campaign from human rights groups and the United Nations.
While running for office Duterte promised a ruthless campaign that would suppress illegal drugs within six months, though he said recently he needed more time as he didn't realize the extent of the problem. Duterte has bristled at any criticism of his campaign. He warned U.S. President Barack Obama against interfering, unleashing an obscenity-filled tirade that prompted Obama to scrap a meeting with him planned for the sidelines of a regional summit this month.
The national police said officers have killed more than 1,100 people during the campaign, which started a day after Duterte took office on June 30, and are investigating more than 2,000 deaths outside official operations.
"Even if I wanted to, I could not kill them all," Duterte said Sunday in a speech in his hometown of Davao City while asking for more time.
Senators Move
The motion to oust de Lima -- which was put forward by senator and boxer Manny Pacquiao -- came after another senator, Alan Peter Cayetano, accused her of bias against Duterte.
"Senator de Lima, in her desire to destroy the president, is destroying the integrity and reputation of the senate," Cayetano said in a speech.
De Lima walked out of the session hall during Cayetano's speech because she could "no longer stand it," she told the ABS-CBN News Channel. "I would now want to call it the tyranny of the majority. Now whether or not what's done to me is fair or just, just let the people decide that." Human Rights Watch said in a statement that de Lima's removal appeared intended to cancel the Senate inquiry and halt the main official effort to stop the killings.
De Lima remains a member of the committee. Senator Richard Gordon, who has said Duterte should have the authority to suspend the writ of habeas corpus, will be the new chairman.
In a speech to the Senate on Tuesday, de Lima said that no committee chairmanship was worth sacrificing principles and causes she had pledged her life fighting for.
"The problem of this country and this administration is the extra-judicial killings," de Lima said. "It was complicated by the president's big mouth and his foolhardy cursing at officials of the UN and the world like the Pope, U.S. President Obama and Secretary General Ban Ki Moon," she said.
De Lima also claimed that witnesses who told a House of Representatives committee earlier on Tuesday that she had tolerated prison drug operations while she was justice secretary had been blackmailed and tortured. "I can't forgive the people who fabricated evidence against me. Your day will come," she said.
Jail Trade
The House of Representatives from Tuesday will probe whether an illegal drug trade flourished inside the national jail. De Lima allegedly tolerated such a trade when justice secretary, her successor Vitaliano Aguirre said at a briefing on Monday. De Lima has denied the allegation.
The move against de Lima comes after a self-confessed former hit man told the Senate committee last week he was part of a vigilante team that executed about 1,000 criminals and political opponents upon the orders of Duterte when he was mayor of Davao.
Edgar Matobato testified under oath he personally shot and killed about 50 people, including a suspected kidnapper who was fed to a crocodile in 2007. Matobato said the killings started in 1988 and lasted until 2013, when he sought to leave the team that became known as the Davao Death Squad. The squad consisted of militiamen, former rebels and policemen, he said.
Duterte has not responded directly to the allegations, but his Communications Secretary Martin Andanar said the president wasn't capable of ordering the killings, while party mate Pantaleon Alvarez, who is Speaker of the House of Representatives, said the claims against the president were rehashed.
Before it's here, it's on the Bloomberg Terminal.
LEARN MORE