Donald Trump Is Gaining Ground on Hillary Clinton in a Crucial Polling Question
But the former Secretary of State still has a large lead.
By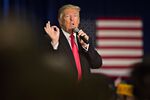 Donald Trump's not just gaining ground in traditional election polls, which track voter intent.
Asking people who they think will win an election — rather than who they intend to vote for — has been shown to have more predictive power, according to psephologists specializing in the science of elections.
The University of Michigan's Survey of Consumers, which showed that Democratic Nominee Hillary Clinton was trouncing Donald Trump on this crucial question in August, indicated that the former Secretary of State's lead is narrowing in its preliminary report for September.
Clinton's advantage over the real estate mogul has shrunk to a net 37 percentage points from 43 in August.
However, the slippage in Clinton's odds of victory implied by these survey results is far less than what polling aggregations have shown. As the below chart shows, Donald Trump has steadily been gaining momentum in national polls, though he still trails Clinton.

UMich's survey of 381 households was conducted from late August through the middle of September, during which time Hillary Clinton suffered a health scare and also came under fire for suggesting half of her opponent's supporters were "deplorables." However, shortly after the survey period, Donald Trump made headlines by refusing to denounce his 'birther' conspiracy theory about President Barack Obama before then making a brief statement acknowledging that the current president was indeed born in the U.S. 
Richard Curtin, director of the survey, noted that respondents who believe Clinton will prevail in November are markedly more optimistic on how the economy will perform in the future than those who think Trump will become the next President.