Deutsche Bank Extends Losses as Capital Threats Seen
by
Societe Generale analysts see risk of capital increase

Bank shares lost 8.5% on Friday after DoJ settlement claim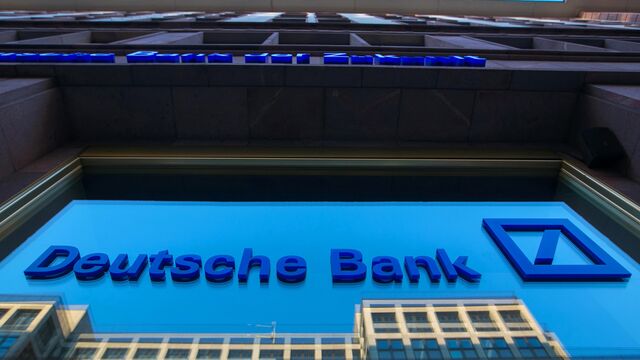 Deutsche Bank AG extended losses as analysts signaled that legal costs may force the German lender to raise capital even if it succeeds in whittling down the $14 billion bill over its mortgage-backed securities business.
The shares fell as much as 2.6 percent in Frankfurt trading Monday and were 1.9 percent lower at 3:43 p.m., pushing the loss for this year to 48 percent. The Stoxx Europe 600 Banks Index was up 1.1 percent.
Germany's biggest bank would be "significantly under-capitalized" even assuming enough provisions to cover an eventual settlement with the U.S. Justice Department, Andrew Lim, an analyst at Societe Generale SA, said in a note to investors Monday. Any settlement above 5.4 billion euros ($6 billion) would imply a capital increase is needed just to pay the fine, he wrote.
That's roughly the amount the bank had in reserve for all legal disputes at the end of the first half. Among other cases, Deutsche Bank still has to deal with a money-laundering probe related to its Russian business.
To read more on Deutsche Bank's legal costs, click here
The shares tumbled 8.5 percent on Friday after the U.S. demanded $14 billion to settle investor claims the bank misrepresented the quality of securities at the heart of the 2008 financial crisis. Deutsche Bank said it expects to pay "materially" less, noting that settlement negotiations were just beginning.
Chief Executive Officer John Cryan has been seeking to offload the Postbank consumer unit to raise capital buffers. The CEO earlier this month told staff that the asset-management business will remain an "essential part" of Deutsche Bank, responding to media reports of a potential sale.
"Even without bad outcomes on litigation, the capital position is precariously thin in the event of a failure to sell Postbank," said Piers Brown, a Macquarie analyst with an underperform rating on the stock. The cost of the Russian case could also be high, he said.
Deutsche Bank spokesman Christian Streckert declined to comment on the analysts' assertions.

The bank's 1.75 billion euros of 6 percent additional Tier 1 bonds, one of the first notes to take losses, were little changed after falling 5 cents to 77 cents on the euro on Friday, a record one-day drop. The notes reached a low of about 70 cents in February.
Deutsche Bank has raised 21.7 billion euros through three capital increases since the global financial crisis erupted and was among the worst-capitalized lenders in European stress tests earlier this year.
JPMorgan analysts wrote in a note to clients that a U.S. settlement of $3 billion to $3.5 billion would leave the German lender room to settle other legal issues. Any additional $1 billion in litigation charges would erode capital by 24 basis points. The bank's common equity Tier 1 ratio stood at 10.8 percent at the end of June.
(
Corrects amount of capital raised in 10th paragraph of story originally published Sept. 19. Correction published Oct. 12.
)
Before it's here, it's on the Bloomberg Terminal.
LEARN MORE