Corbyn Pledges to 'Reach Out' to Labour Lawmakers Opposing Him
By
Incumbent is strongly favored to win re-election on Saturday

Corbyn faced challenge from Smith after losing confidence vote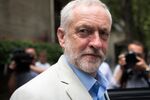 Jeremy Corbyn, the favorite for re-election as U.K. Labour Party leader on Saturday, pledged to "reach out" to lawmakers who have rebelled against him, seeking to restore unity in the nation's main opposition.
"Of course I'm going to reach out to them as I've reached out to them in the past," Corbyn said on Monday in an interview on the BBC's "Today" radio program. "It doesn't mean everybody agrees on everything all the time -- that I understand -- but the general direction of opposition to austerity, opposing the Tories on austerity, those are the kinds of things that actually unite the party these days."

Voting ends on Wednesday in the leadership contest, with a result due to be announced on Saturday. The ballot was triggered by Owen Smith, Corbyn's former work and pensions spokesman, who challenged him after the leader refused to step down in the wake of mass resignations from his shadow cabinet and a 172-40 loss in a vote of confidence among Labour members of Parliament.
Corbyn, the biggest Labour rebel when Prime Ministers Tony Blair and Gordon Brown were in office, scored a surprise win in last year's leadership election, and he enjoys wide support among the party grassroots, despite failing to win over the bulk of his colleagues in Parliament. He's the 1:66 favorite at bookmakers Ladbrokes Plc, meaning a 10-pound bet would yield just 15 pence of winnings if he comes out on top.
Speaking to the same program, Labour lawmaker Neil Coyle showed Corbyn may struggle to win everyone over.
Corbyn "has done nothing to demonstrate that he is interested in a unified party," Coyle said. He said party members "still have until Wednesday to make sure that we end this nonsense."
Before it's here, it's on the Bloomberg Terminal.
LEARN MORE