China Said to Plan $150 Billion in New Public-Private Projects
Bloomberg News
Shares of companies that may benefit from PPP projects surge

'Focus will be on fiscal policy and infrastructure investment'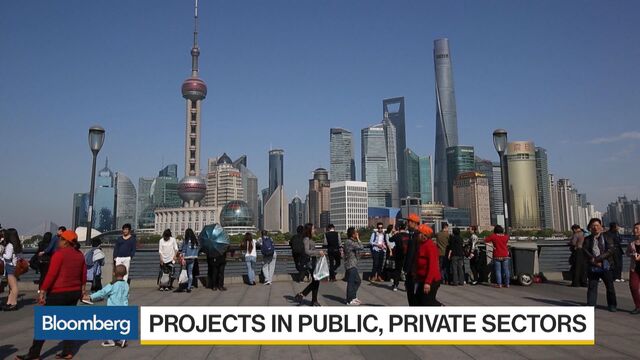 China plans to prize open private firms' wallets with a new batch of investment projects backed by the government.
The Ministry of Finance has selected about 1 trillion yuan ($150 billion) worth of additional public-private partnership projects, people familiar with the matter said. The projects will be announced after receiving final approvals, according to the people, who asked not to be identified because the information isn't public.
Shares of companies that may stand to benefit -- including Inner Mongolia M-Grass Ecology and Environment Group and Xinjiang Guotong Pipeline Co. -- surged by as much as their 10 percent limit Tuesday. News of the PPP plans fueled such gains, said Northeast Securities strategist Shen Zhengyang.
"There's limited room for China to regain economic momentum via monetary policy, so the focus will be on fiscal policy and infrastructure investment," Shen said. "Related stocks will be relatively more active than other sectors, but won't necessarily drive up the overall market."
China's government has pushed such partnerships -- which split costs between government coffers and private funders -- to help prop up economic growth by spurring a recovery in private investment without straining the public purse. The central bank, meantime, hasn't cut benchmark interest rates in almost a year and is signaling it wants local governments to curb bubble threats in some surging property markets.
Third Round
The Finance Ministry has narrowed down the list to 516 projects out of more than 1,000 proposed by local governments, one of the people said. It's unclear how much of the funding the government will provide. The efforts would build on two earlier rounds of projects that the Finance Ministry has already completed, one worth 180 billion yuan and one for 658.9 billion yuan, according to reports posted on the agency website.
They would be separate from a group of almost 2 trillion yuan of public-private projects announced last year by the National Development and Reform Commission, China's top economic planner, for campgrounds and sewer systems. The Finance Ministry didn't respond Monday to a Bloomberg News fax seeking comment.
"This represents intensified measures from the government to lever private investment and boost the economy," said Zhu Qibing, chief macro economy analyst at BOCI International (China) Ltd. in Beijing. "Private investment slowed too rapidly this year while previous PPP projects weren't well-executed."
— With assistance by Jing Zhao, and Steven Yang
Before it's here, it's on the Bloomberg Terminal.
LEARN MORE