Carney May Review Low-Rate Risks as Brexit Actions Assessed
by
FPC meets Tuesday to discuss financial-stability concerns

Officials are eyeing consumer credit, falls in yield curve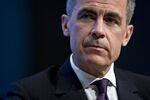 Mark Carney may be about to review any early side effects on the U.K.'s banking system from his new record-low interest rates.
QuickTake Normal Interest Rates
The Bank of England's Financial Policy Committee, chaired by Governor Carney, is due to meet Tuesday after an active summer that saw it respond to the U.K.'s Brexit vote by cutting a capital buffer for banks and easing leverage restrictions. 
The Monetary Policy Committee also lowered its key interest rate to just 0.25 percent on Aug. 4 and indicated it could go even lower, a move that has implications for banks' net interest margins and household borrowing. The latter is rising at pre-financial crisis rates, thanks in part to seven years of record-low borrowing costs, and FPC members have previously highlighted consumer debt as one of the key risks to financial stability.

The FPC, which will publish a statement from the latest meeting on Thursday, may also review risks such as the current account deficit and commercial real estate, as well as assess the impact of the steps it took to help banks after the EU referendum.
"Given they've been active on the policy front after the referendum, probably this is more likely to be an opportunity to take stock and review that broader range of financial stability risks," Sam Hill, an economist at RBC Capital Markets in London, said in a telephone interview. "It would be completely expected that they would refer to low rates, but at this stage there's no conviction it would result in any FPC action."
For more on low interest rates, click here
The committee raised the issue of loose policy as the MPC, also led by Carney, prepared to ease, saying that there "could be circumstances in which implications occur for financial stability, including where benchmark interest rates are very low or negative."
Since then, the MPC has said the impact of its measures in August led to a "greater than anticipated boost" to asset prices. RBC's Hill said that may heighten any concerns about stability risks from an ultra-loose stance.
"If the MPC feels maybe there had been more bang from their buck than expected from that range of interventions -- it's probably pushed interest rates lower than they'd thought -- it might be an even more pressing concern for the FPC to revisit," he said.
Officials may also discuss the global environment, with asset prices recovering from turbulence in the aftermath of the Brexit vote. That rally may be deceptive and financial markets may still be susceptible to bouts of volatility, the Bank for International Settlements said in a report released Sunday. "Questions about their underlying resilience remain," the BIS said.
Sign up to receive the Brexit Bulletin, a daily briefing on the biggest news related to Britain's departure from the EU.
Before it's here, it's on the Bloomberg Terminal.
LEARN MORE